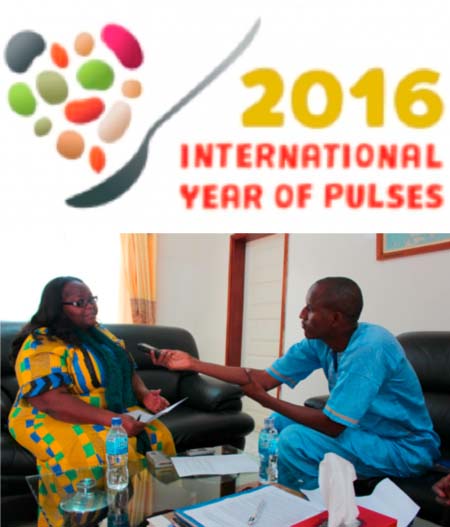 Pulses are important food crops for addressing hunger, food security, malnutrition, environmental challenges and human health – Says Dr Perpetua Katepa-Kalala, FAO Representative in The Gambia
Running under the slogan "nutritious seeds for a sustainable future", the UN General Assembly declared 2016 the International Year of Pulses (IYP) to raise awareness of the many benefits of pulses, boost their production and trade, and encourage new and smarter uses throughout the food chain.
In a symbolic gesture, FAO Director-General José Graziano da Silva planted a number of fava beans in a planter full of soil as he proclaimed the International Year opened on 10 November 2015 in Rome, Italy.
As part of activities marking the IYP, The FAO Representative in The Gambia, Dr. Perpetua Katepa-Kalala recently granted an interview to the Biodiversity Action Journalists (BAJ). She spoke extensively on the numerous benefits of pulses towards the attainment of the Agenda 2030. Below is the full interview:
BAJ: Ma, Good afternoon and many thanks for granting us this interview despite your very busy schedules. Can you explain what pulses are and tell us what type of pulses we have in The Gambia?
FAOR: Thank you. Let me begin by saying that 2016 was declared as the International Year of Pulses. So, we have been paying particular attention to them and I am really glad to have this opportunity to be able to speak a little more about pulses and hopefully inform people about the importance of this particular crop. Pulses are from the plant pieces called leguminosae. It is the leguminosae family which is also known as the Pea family. They produce edible seeds which are used for both human and animal consumption. Now, not all legumes are pulses. The only ones considered pulses are the ones that are harvested for dry grain. There are other legumes for example green beans or peas which we all know, which are mostly used as vegetables or peas. When they are used in the vegetables form they are not pulses because only the dry once are called pulses.
There are also other legumes that we all know such as soya beans and ground nuts which are used for oil. They also are not considered pulses but they are legumes. There are also other pulses like Alfalfa (lucerne) which are used for cover crop for livestock. So the only ones that we call pulses are the ones that are harvested and used in the dried form.
The common varieties we know in The Gambia are cowpeas and pigeon peas. They are found everywhere and they are very commonly known. In fact, in the world, there are hundreds if not thousands of varieties of pulses. If you go in to the shops you will find kidney beans, you will find black beans, different types of lentils … there are so many different types of pulses in the world. But in The Gambia, the common ones are the cowpeas also known as the black-eyed peas and pigeon peas.
To be continued
AUTHOR: BAJ Photo credit: ©FAO/Amadou Bah
Read Other Articles In Article (Archive)