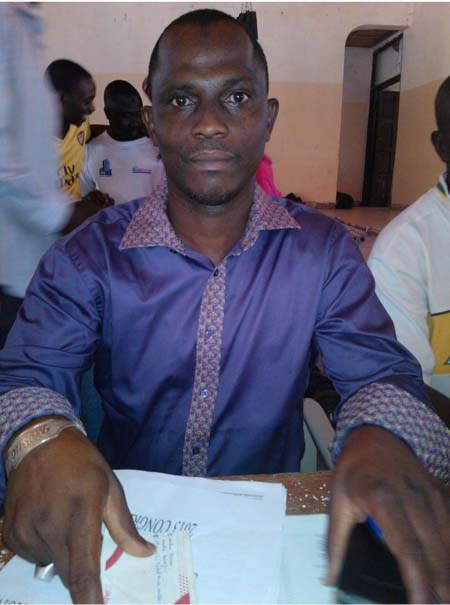 Falcons FC and Ebbeh Gi FC each secured a win over their opponents at the weekend in the ongoing Serrekunda East Sports Development Organisation (SESDO) Nawetan competition.
The 3pm-kickoff game played at the Serrekunda East Mini Stadium on Saturday saw Falcons FC beat New Germany FC by a goal to nil to register their first win of the competition, thanks to Muhammed Conteh's17th-minute strike.
Falcons FC have now collected 4 points in two encounters while New Germany FC are only managing a single point in two games.
In the 5pm encounter of the same day, Shop Bi FC drew goalless with Jola Kunda FC in a keenly-contested encounter.
Shop Bi FC have now collected a point in two games while Jola Kunda FC have bagged 2 points in two encounters.
On Friday13 September 2013, Ebbeh Gi FC beat Abuko United by 2-0 in the 5pm game played at the Serrekunda East Mini Stadium.
Bakai Jange was the hero for Ebbeh Gi FC netting in both halves to give his side a comfortable 2-0 win over their opponents.
Bakai Jagne registered his first goal with 19 minutes on the clock from a superb strike after capitalizing on Lamin Marreh's defensive blunder.
He sealed the victory for his side in the 65th-minute of the game from a classic finish after capitalising on Modou Lamin Darboe's cross.
Latrikunda United earlier on the same day, in the 3pm kickoff drew 0-0 with One Love FC.
Ebbeh FC have collected 3 points in 1 game while Abuko United are yet to collect a point in 1 encounter.
Latrikunda United collected 4 points in 2 encounters while One Love FC managed 2 points in 2 games.
Speaking to reporters shortly after his side's 2-0 win Abuko United, Malick Jobe, head coach of Ebbeh Gi FC said Serrekunda East is the best zone for emerging young talents in The Gambia, adding that his side played very well against Abuko United.
He added that the best of his side is yet to come as they will perform better in their upcoming games, saying he believes his team can make it to the next stage of the competition.
"I have no doubt that we will make it to the next stage," he stated, expressing confidence that they will win their next encounter.
Musa Sissoho, Abuko United head coach, said that in football, if you have your chances and do not take them, you are bound to be punished.
They have a better side than Ebbeh Gi FC but made mistakes and were punished, he said.
They have accepted the defeat in good faith, he remarked, saying they will prepare better for their next game.
"We will go back and rectify our mistakes," he went on, adding that they can still qualify to the next stage of the competition provided they win their remaining two games.
He stated that Abuko United are currently under re-building, adding that it is the duty of the old players that have passed through Abuko United to put the team on the right path.
Sissoho further stated that the team has not been doing well in recent years, but this year will be different as they will be fighting for trophies.
"There is no team that has made success without the fans," he said while calling on the fans to rally behind the team.
Ansu Joof, head coach of Shop Bi FC, said his side played well and also created chances but could not capitalise on them, noting that what they need at the moment is a striker that can score goals for them.
He stated that in their opening game of the nawetan competition they conceded a very late goal.
Despite only collecting a single point in two games with just a game more to play in the group stage, Joof said his side would not be relegated this year.
"We will not be relegated this year, even if we cannot qualify to the next stage of the competition. We will do whatever it takes to maintain ourselves in the nawetan proper for next season," said the tall lanky coach.
He also said they would prepare better for their final group game against Culture FC, adding: "Culture FC is an old and big team by name but at the moment the calibre of players they have is the same as ours."
He concluded by calling on the fans of the team to be patient with team, saying if he takes the team from the group stage he will win the trophy.
Baba Saidy, Jola Kunda FC head coach, said they prepared for a win after drawing their first game of the tournament, adding that expectations were very high.
He noted that they have taken the draw in good faith and will now prepare for their remaining game against Nguma FC.
"Nguma FC is an experienced side because they have been taking part in the nawetan for some years now, but football has changed as you cannot underrate any team," said Saidy.
He stated that he always advises his players to show respect during the game, respect to their opponents and the game of football, adding that "with respect you can achieve your goal".
"We have to concentrate on our next game for now, and if we are able to maintain ourselves in the nawetan proper or make it to the next stage of the competition, then we will fight for the title," he said.
"Everyone at Jola Kunda is behind us and the boys are ready to give their best," he also said, while calling on the fans to be patient as they would make them happy. 
Read Other Articles In Article (Archive)