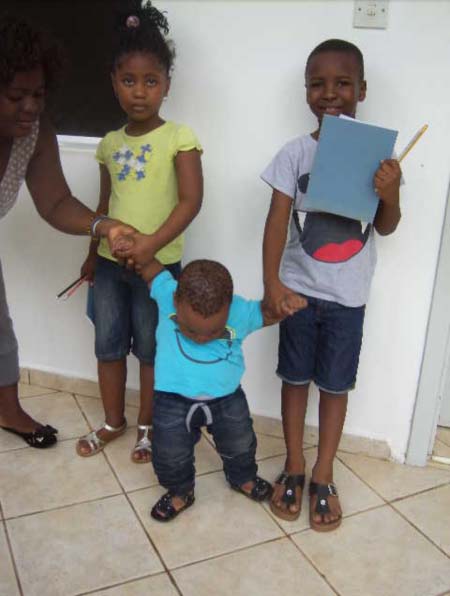 Members of Fajara Centre, one of the five registration centres set up by Sierra Leone Embassy to conduct its National Registration drive, are donating learning and other materials to children between the ages of 1 and 3.
According to the supervisor of the centre, Mr Mohamed Musa, the gifts, which include books and pencils, as well as toys, are being given in solidarity with the registration exercise as well as to motivate parents to register their children.
"The Fajara Centre decided to give out gifts to children between the ages of 1 and 3 to motivate the parents to come along with their children to register," Mr Musa said.
He added that the gesture has been working well for the exercise as many parents are coming out with their children to register.
"For instance, a parent came all the way from Tallinding with six of her children to register at the Fajara Centre, which was good and encouraging and such things would augur well for the exercise," said Mr Musa, who is also the financial secretary of SLENU – the Sierra Leone Nationals Union.
He also called on all Sierra Leoneans residing in The Gambia to register as the exercise will be of immense benefit to them.
Mr Musa congratulated and thanked the Sierra Leone Ambassador to The Gambia, H.E. Alhaji Soulayman Daramy and his deputy Ambassador Haja Saidatu Sesay-Kamara, for their "good initiative and tireless efforts at ensuring that the registration exercise is realised.
He also commended the enumerators and all those attached at the Fajara Centre for their cooperation and efficiency in discharging their duties.
The Sierra Leone Embassy in The Gambia on Saturday 9 August 2014 launched its registration exercise of Sierra Leonean residents in The Gambia, at the Paradise Suites Hotel in Kololi.
The registration exercise, which will continue till 20 August 2014, starting from 9.00am to 5.00pm each day, will cover greater Banjul area in the first 7 days before it is taken to other regions of the country.
Centers for registration are the Sierra Leone Embassy Residence at Fajara; Nusrat Senior Secondary School in Bundung; ST. Therese's Upper Basic School on Kairaba Avenue; Talinding Primary School in Talinding Bantaba; and Jofi Preparatory School in Manjai.
Any document, such as passport, ID card and other authentic proofs, that can identify one as a Sierra Leonean can be used to process his or her registration.
Read Other Articles In Article (Archive)