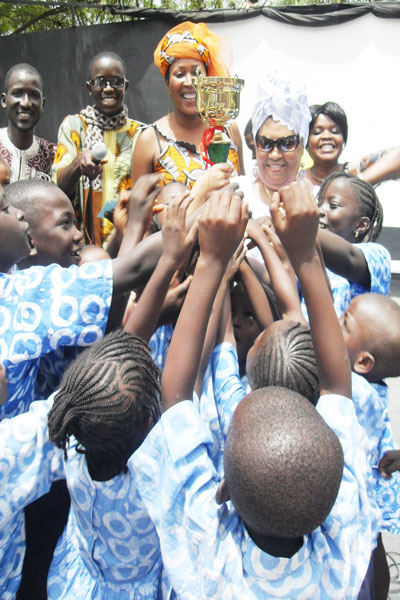 DianaMariamLowerBasicSchool in Fajara recently won a trophy in a French competitionorganized by Saint Francophile Association under the Alliance Franco Gambienne for five primary schools.
During a keenly contested French competition comprising poems, music and drama between Ecole Francais, Marina International, Ecole Senegalese, Rainbow, and Diana Mariam. They scored 45 points in the competition.
Delivering his remarks at the occasion Monsieur Gerard C, Head of French Cooperation in The Gambia said, "The competition is organized by Saint Francophile Association, club of the Alliance Franco Gambienne. The competition is to help children learn from the spoken French and to know that the language is vital in education."
He further said that they were delighted that the children in primary schools are learning the language. "There is plan to have pilot public schools to offer the French language which shall eventually spread".
He thanked the teachers and students and assured them of his conitued support.
Pascal Ressouk, Director of Alliance Franco Gambienne, thanked participants in the competition. "I hope you will get the best out of it and make French your own," he said.
Madam Carvalho congratulated participants.
The competition continues with the Upper Basic and SeniorSchools this week.
Diana Mariam scored 45, Marina International 44, Rainbow 39 and Ecole Francaise and Ecole Senegalese scored 37 each. All schools received certificates.
Read Other Articles In Article (Archive)