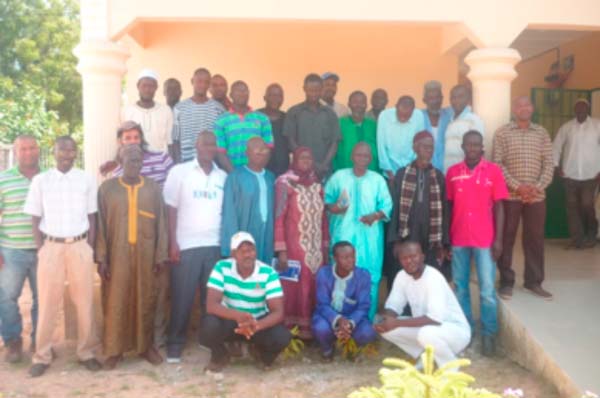 The National Agricultural Research Institute (NARI) on 8 November 2015 trained extension workers and mango out-growers in West Coast Region on effective management of fruit flies.
The day training, held at its conference hall in Brikama, was funded by the Gambia Growth and Competitiveness Project.
NARI Director General Ansumana Jarju, in his opening statement on the occasion, said the training was timely, as "government is aspiring to see positive happenings" in the country.
"Our valuable services and products deserve absolute protection which is a multi-stakeholder responsibility," he stated.
DG Jarju added that in addition to government's focus on unit area, they also want to enhance capacity as they felt the need to protect the required supplies and services.
Key among the produce and supplies is fruits, with mango being the outstanding one, he said, adding that protecting mangoes from fruit flies is a worthy cause.
In The Gambia in 2009, over 50% of mango fruits were damaged by fruit flies, he pointed out, saying government is aware of the situation and "ready to arrest it".
Mr Jarju urged participants to apply as required knowledge gained from the training to ensure they achieve the desired results.
He also assured them of government support, saying "the advanced effect of fruit flies cannot be arrested if everyone does not take up his responsibility".
He also said the processing of mangoes cannot happen without due attention to protection.
Saja Konateh, Principal Agricultural Officer at Plant Protection Service, in his keynote address on behalf of the Director of Plant Protection Service, said the fruit flies training would serve the country a great deal, considering the fruit industry in the country.
He described NARI's action to fight fruit flies as a "great step" and therefore urged participants to take the training seriously.
The training is important for the country's food security as well as for foreign exchange as mongos are exported by the country, he added.
Ismaila Mbenga, acting head of Pest Management at NARI, in deliberating on his institution's fruit-flies initiatives, said 45% the damage was generally observed in mangos.
However with the introduction of new mango varieties, the damage on mangos in recent years had increased significantly and resulted in decline in tonnage to be exported, from 40,000 tonnes to 25,500 tonnes, which was all due to fruit flies.
He said the way forward in fighting fruit flies is strong collaboration between stakeholders as well as determining the diversity of fruit flies in The Gambia.
Mr Mbenga also noted that opting for sub-regional and regional collaboration to fight against fruit flies is also another way.
He spoke of the need for capacity building on how to effectively combat fruit flies.
Jerreh K. Manneh, Principal Plant Pathologist at Plant Protection Service, dilated on the biological control of fruit flies, while Momodou Lamin Touray of NARI elaborated on the management options for fruit flies.
Sajo Konateh spoke also on the integrated management of fruit flies.
Read Other Articles In Article (Archive)