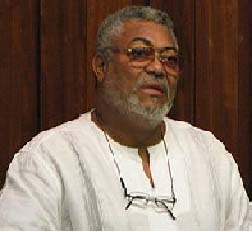 The former President of Ghana, Jerry J. Rawlings is on the attack once again, but this time around not using the barrel of gun to oust ''dictators and restore sanity'' but against modern African leaders who use ''state machinery to terrorise its people and impose their will'' on them.
Addressing participants including law students, tutors, academics, professionals, political commentators and other invitees at a lecture  delivered on the theme ''Democracy and Security in Africa,'' at the Oxford University, Rawlings complained that ''corruption has persisted because our leaders have used state machinery to terrorise the people and silence the opposition''.
Rawlings who sometimes during his speech ignored the written version of it, on few occasions lost track of where he even started and began apologising to his audience that it could be ''emotional'' while dealing with such topics affecting the African continent.
 He further asked the question how on earth do we expect to have ''security without genuine democracy'' on the continent? and insisted that ''since freedom and justice anchor democracy, we cannot have security of peace and stability when there is no freedom and justice?".
 Some of his audience said they were shocked to hear such words, especially when the former military ruler insisted that ''democracy is about what the people want and need, not about what the rulers think the people want or need''.
In a rather strong voice he said: "Are we not violating people's human rights, sensibilities and sensitivities with the use of the coercive machinery of the state by terrorising people into a state of subjugation?".
 The former President also had a go against western powers when he complained: "The multiparty system of governance prescribed and inflicted on us by some western powers did not factor the social cultural fabric of our traditional political system that existed before western multiparty democracy''.  
Backing his argument, he disclosed that he recently had the opportunity to address the African Presidential Roundtable in Berlin, where the issue of land security was discussed and that it was evident that colonialism was an issue.
 Rawlings also commented on regional security and stressed that it is a vital factor in the political directions of most African countries. More interestingly, the former military ruler confessed that ''intervening military leadership did little to curtail the corruption that had been inherited and inflation and other economic indices were in a galloping state''.
 Former President Rawlings revealed that in August 1990 at a meeting in Banjul, Gambia, some were impressed on the need to establish a military intervention force, ECOMOG (ECOWAS Monitoring Group). However, he disclosed that the ''initial composition involved troops from a few countries from the West African region...the grounds for the establishment of the force were based more on a political and moral will, and the need to set a precedent than on a legal basis''.
On a more optimistic note, Rawlings believes that the Obama's leadership will now ''hopefully make it more difficult for governments to get away with the corrupt and autocratic behaviour since the fall of the bipolar world'', and therefore urged others to take advantage of the ''redeemed political morality before we lose this opportunity again''.
Rawlings, who was Head of State and subsequently President from 1983 to 2001, is described as ''unusual amongst African leaders who have seized power during a military coup in having later overseen a transition to democracy, and then respectfully stepped down to make way for his political opponents after losing a democratic election''.
However, during question and answer session, a West African student reminded the former leader that his own government was guilty of corruption and abuse, and thus contributed to Africa's troubles. Interestingly, Rawlings admitted the fact but quickly added: ''That's true... but if we need to have a bath the other party (referring to his opponents) requires a blood transfusion''.
 Whether or not African leaders require to take a bath to wash away corruption or see their doctors or surgeons for blood transfusion to do away with abuse and tyranny is still a serious debate as most of the participants who hailed from Africa unanimously agreed that it is time for ''leaders to own up to the continent's successes, as well as its predicaments and stop pointing fingers and blaming outsiders for their own clutter''.
 A post graduate student told The Point: ''Come-on we are in an unprecedented recession and who do you expect to sort out our own mess for us''.
Read Other Articles In Article (Archive)