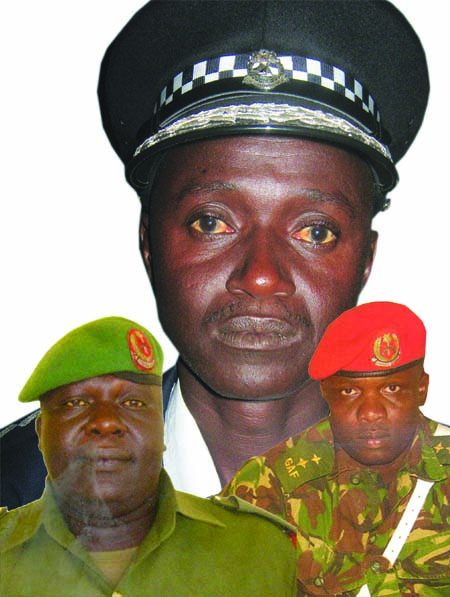 The trial of former police chief Ensa Badjie and two senior military officers namely, Lt. Colonel Mam Matarr Secka and Major Kuluteh Manneh, could not proceed yesterday as scheduled.
All the accused persons and their counsel, Borry Touray and Lamin K Mboge, were present in court, and the case was expected to continue yesterday with the ruling on the bail application of defence counsel LK Mboge, and continuation of the hearing.
The trial judge, Justice Emmanuel Amadi and the prosecutor DPP N. Chenge were also not in court, only to be later communicated to the parties concerned that the case had been adjourned to 30th June 2010.
Readers would recall that the case could not proceed at the last adjournment date, due to absence of the prosecution witness, Sillaba Samateh.
On that day, the Director of Public Prosecutions, Richard N. Chenge, told the court that he did not know the whereabouts of his witness, Sillaba Samateh, who was not present in court.
As a result, the DPP asked for an adjournment to enable him contact the NIA to know why the witness, Sillaba Samateh, was not brought to court.
Approached to shed light on the unexplained adjournment, defence counsel L.K Mboge, representing Major Kuluteh Manneh said: "I have not seen the judge, neither the prosecutor nor the witness."
He noted that the matter could not proceed in the absence of the prosecution and their witness.
The former Inspector General of Police, Ensa Badjie, and his co-accused were indicted by state prosecutors, and arraigned at the high court in Banjul under a 51-count charge.
The counts include conspiracy to commit felony, official corruption, abuse of office, obtaining goods by false pretence, obtaining money by false pretence, economic crimes, and sedition.  
Read Other Articles In Article (Archive)