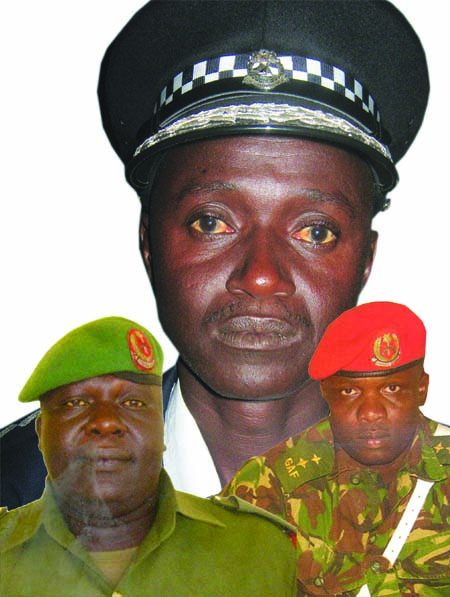 Lt. Col Mam Matarr Secka, former administrative officer and officer commanding transport at the Gambia armed forces, yesterday opened his defence in the case involving him, Ensa Badjie, former police chief, and Major Kuluteh Manneh, at the Special Criminal Court in Banjul.
The former Gambia army transport commander told the court that he was enlisted into the Gambia Police Force in 1982, and later joined The Gambia gendarmerie.
He added that he was promoted to the rank of Lt Col in 2008/09, adding that he was the officer overseeing the Military Police Unit.
Matarr Secka told the court that he did not know Sillaba Samateh, but saw Sillaba when this case was reported to the Kotu Police Station.
He added that he first saw Sillaba when the wife of one Lt. Col Arthur Gomez lodged a complaint with the MP at the Yundum Camp against the family of Sillaba Samateh, that they used to pour water which runs into their compound, and the complaint was found to be true.
He said the matter was peacefully settled, and the family of Sillaba was warned to stop that habit; by then Sillaba was not in town.
"In November 2009, I received a call from former police chief Ensa Badjie, informing me that they had a problem, and that I (Secka) was needed at the Kotu Police Station," he told the court.
He said Badjie further told him that there was a man called Sillaba Samateh, who was arrested.
Secka said he went to the Kotu Police station, where he met the former IGP Ensa Badje. Members of the NIA and other officers also were present.
The former army officer further told the court that he saw a man called Sillaba Samateh and Pa Mbye, adding that a CD cassette was being played, and they were all listening to it.
He said he could hear in the cassette Sillaba saying: "We are going round the town saying that the president had given us drugs to sell, which had never happened" and he could also hear Sillaba denying that allegation, saying: "I had never said such allegation."
He added that an instruction was given for Sillaba Samateh and Pa Mbye to be detained, and he (Secka) gave a statement to Kotu Police Station, and that later Ensa Badjie decided that the matter be referred to the police headquarters.
Designated as defence witness two (DW2), Secka adduced that the following day at around 9 o'clock, he was called to report to the Major Crime Unit, where he met Sillaba Samateh, Pa Mbye, Neymar Ceesay, Ya Awa Samateh and Ensa Badjie.
He added that he was asked by one Ceesay of Serious Crime to write a statement, as it was alleged that he was trained as a pilot.
Lt. Col Secka said he was never trained as a pilot, and that the police officer told him that he (Secka) was also trained for the transportation of drugs.
He stated that he was never involved in any drug-related issue, and a statement was obtained from him by Mr. Ceesay.
From there, he went to defence headquarters, where he met Major General Yankuba Drammeh, the former Deputy Chief of Defence Staff.
He said there, he informed Drammeh what happened, adding that he was later called by the Chief of Defence Staff, Masanneh Kinteh, to report to the NIA, where he was told that they had a written order that he Secka should be detained.
He stated that as far as he was concerned, the case was not investigated by the NIA.
The case continues on 7 May 2012.
Read Other Articles In Article (Archive)