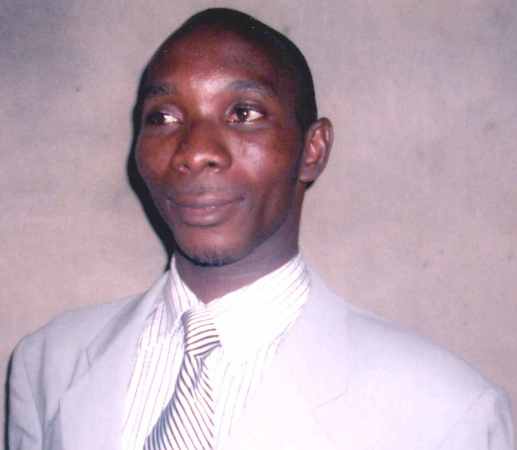 The Evangel World Mission Church situated at New Jeshwang just behind Jokor had a double celebration of commissioning their Assistant Pastor, Anyim Chimezea Onyendinefu otherwise known as Pastor Stanley recently. The head Pastor Mike Obi celebrated his birthday at the same occasion and the Church Held a five-day seminar talking about "Pre-eminence" in their lives. Panorama was there and gathered the facts.
Pastor Anyim Chimezea Onyendinefu now assistant Pastor to Pastor Mike Obi was commissioned after their deliberation on Pre-eminence over four days. Like Jesus Christ, there were over a dozen Pastors from different Churches. He knelt down and one Pastor Joseph prayed over him. He was anointed with the Olive Oil. The Church sang as the pastor took the new position.
The head pastor had seen good qualities in Pastor Anyim especially whenever he is away and the Church is left in his care. Jesus says, "You have been faithful in small things, I will put you incharge of big things."
The head pastor, Pastor Mike Obi did not waste time in his speech to urge all to focus on what God is doing that night and what He has done. He prayed for those pastors and congregation that came for prosperity in their lives. "I have come to discover that if blessing is to come into someone's life something is responsible and for God to enter man's life something is responsible," he said. 
Talking on Pre-eminence he quoted Col. 1: 18. He defined pre-eminence saying "It is the spirit that falls from someone from God."  He further quoted the Old Testament on Ishmael and Isaac and how Jacob received pre-eminence. He spoke on the Coat of many colours and Joseph?s dream. He said Joseph's brothers' thought that it was in the coat that he had his pre-eminence. "It is not found in coat pockets but it is fond in you," he said. 
Pastor Mike Obi said that the God of Europe is the God of Africa.
You cry for help but pre-eminence provides it, remember blessing attracts blessing. Pastor Obi says. Joseph's dream he further said, puzzled everyone, no one could unearth it. Trouble is an indication that you still cannot find it. "Pre-eminence goes with a prize," he said.
When God crosses His Hands blessings come. God crossed His Hands on the cross 2000 years ago and the world was saved. 
Narrating his one time hardship till the intervention of pre-eminence, Pastor Obi said there was a time eleven years when he could not see his parents; neither did he call them. He said it was a real heartache to him but God was in control. "When you know a man?s story you tend to appreciate him more," he said. He further reiterated that many had asked him before when things were really, really tough and it did not seem to work for him. And they said "Why don't you leave what you are doing and find something else to do My mother called me from home several times requesting that I return home. But I did not return because when God is ready your helper will be interested in you.
When I was away, Evangelist Stanley otherwise known as Pastor Anyim Chimezea Onyendinefu, a Man of God took the responsibility of carrying the work of God in a good way. Why God brought us together is divine not by design. For this reason we commission him today as our Assistant Pastor. My prayer is that you will do greater than me," he said.
Pastor Mike Obi's birthday was another turning point in the five-day event. Although other senior pastors did not want to let him kneel down to receive blessings on his birthday, he loved it and therefore let go of the standing to receive the showers of blessings while kneeling. The two occasions were a turning point in their lives as each received a renewed vigour to continue the work of God in a special way.
Pastor Anyim the newly commissioned Assistant Pastor, is also to be inaugurated in to office as Assistant Secretary General of the Nigerian Clergy's Association, The Gambia. This will take place at Kairaba Hotel on the 26th September, where he would be commissioned into office.
He said in gratitude to what he had received, he feels very honoured and that it is a great opportunity for him that was ordained by God. "Anything by God cannot be disputed. I thank my friends and I hope the work put in my hands will be fruitful."
Read Other Articles In Article (Archive)