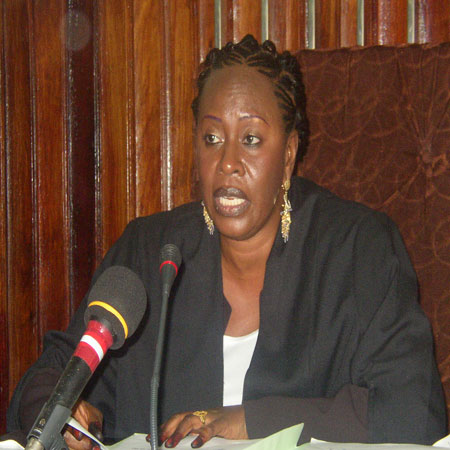 A five-member delegation of the National Assembly led by Hon. Fatoumatta Jahumpa Ceesay, Speaker, Fabakary Tombong Jatta, Majority Leader, Hon. Momodou Lamin Sanneh, Minority Leader, Hon. Tina Faal, Nominated Member and the Acting Clerk of the National Assembly Mr. Momodou A. Sise returned home last Thursday after attending the 97th National day celebrations of the Republic of China (Taiwan).
Hon. Speaker and delegation, who attended a parade, state reception and visited many places of interest also called on the president of the Republic of China (Taiwan) H.E Ma Ying-jeou and her counterpart, H.E Hon. Jin-pyng Wang, Speaker of the Legislative Yuan.
Similarly, the Honourable Speaker also proceeded to Geneva, Switzerland where she attended the 119th Assembly of the Inter-Parliamentary Union from the 13th - 15th October 2008.
The Inter-Parliamentary Union Assembly is an annual parliamentary event, which brings together parliamentarians from across the globe to discuss pertinent issues. Among the issues discussed in this years gathering was "Advancing Nuclear Non-Proliferation and Disarmament and securing the entry into force of the comprehensive Nuclear-Test-Ban Treaty: The role of parliamentarians, climate change, sustainable development models, and renewable energies and freedom of expression and rights to information. 
Delivering her speech on the theme "Freedom of Expression and Right to Information", Hon. Jahumpa-Ceesay informed the gathering that the government of The Gambia, under the leadership of President Jammeh, believes that for citizens to fully and actively participate in the socio-economic development of their country, they have to be free politically and psychology.
"It is against this backdrop that the government of The Gambia has developed media friendly policies that witnessed the establishment of many private newspapers and radio stations.
In the communication sector, Hon. Jahumpa-Ceesay said strategies for information development cannot be effective and successful without the target users having access to utilise the service.
On the Middle East, the speaker mentioned that The Gambia like any other country is equally concerned. She said The Gambia supports efforts to bring a peaceful and lasting solutions to the Palestinian crisis and that the Israelis and Palestinians should be encouraged to work in good faith with the quartet to implement the Road map endorsed by the Security Council in its resolution 1515(2003). This would see the vision of the two states living side by side in peace and harmony soon realised.
Hon. Jahumpa-Ceesay also held bilateral talks with counterparts from the Islamic Republic of Iran, Indonesia, Kuwait and the Kingdom of Saudi Arabia. The discussions were centred on the possibilities to strengthen, consolidate and expand on the existing bilateral relations between the respective governments, people and national parliaments.
Meanwhile, the Hon. Speaker was accompanied to the 119th Assembly of the Inter-Parliamentary Union by Hon. Lamin Jadama, Hon. Ousainou Sainey Jaiteh and Momodou A. Sise, Acting Clerk of the National Assembly.
Read Other Articles In Article (Archive)