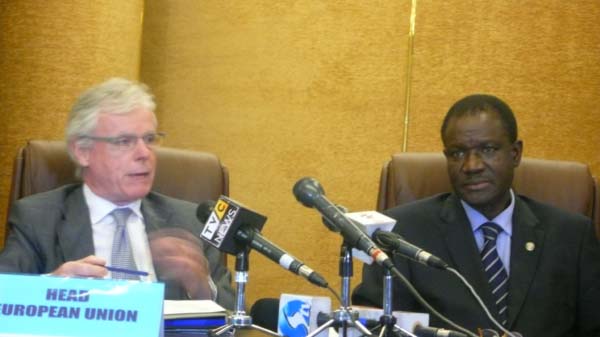 The European Union ambassador to ECOWAS and Nigeria has said that West Africa could be the next emerging region in the world if the bloc improves access to markets, makes conscious effort at addressing the challenges of competitiveness.
Speaking at the official launch of the Regional Economic Integration and Trade Support programme, and the West African Private Sector Competitiveness Support Programme at the ECOWAS Secretariat, Abuja, on 26 November, Ambassador Michel Arrion said West African economies have managed to, and are still growing despite the challenges they are grappling with.
Irrespective of constraints, with abundant natural resources, West Africa could consider their challenges "as opportunities, which if addressed, could allow the region to leap frog in its development quest", said the diplomat.
Worth over 40 million Euros to be implemented in a three-year span, the project seeks to accelerate the process of achieving customs union by supporting the ECOWAS Commission in improving the Trade Liberalisation Scheme, developing a common trade policy, facilitating the harmonisation of trade-related policies and statistical data, as well as disseminating trade-related information.
With co-financing from the government of Germany, Ambassador Arrion said the programme would support West Africa in two ways: "by supporting ECOWAS and WAEMU in completing the regional economic integration process, at a time when it is critical to focus on the effective establishment of the single market and the common external tariff; and by improving competitiveness of the private sector, supporting implementation of trade agreements now under negotiation with other economic regions."
In recent years, West Africa has made significant achievements in terms of political stability, peace and security, the diplomat noted, saying: "Moreover, it has advanced in its regional integration roadmap and set ambitious milestones for the immediate future, such as the establishment of Common External Tariff by January 2015, or the adoption of a single currency by 2020… ECOWAS and WAEMU are instrumental in this process."
At a press conference held on the sidelines of the launching, Ambassador Arrion told journalists: "This project will help West Africa manufacturers to produce 'Made in ECOWAS' goods.
"It will help manufacturers produce quality products that West Africa consumers want to buy – the quality and the price has to be right. If the private sector is producing the right products for the consumers, there is a huge market here in West Africa for its consumption."
Read Other Articles In Article (Archive)