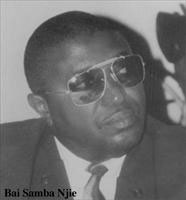 The Coordinator of the Gambia Association of Blood Donors (Gamblood), Mr. Solo Bojang, has disputed claims that his association is no longer in existence.
According to him, Gamblood is an association formed way back in 1991 to help mobilise the much-needed blood in our hospitals.
Mr. Bojang made these remarks yesterday morning in an interview with this reporter when he visited The Point office to make what he refers to as 'to set the record straight' regarding the fate of Gamblood.
Mr. Bojang stressed that the association is still functional and remains as Gamblood despite some media reports that the association has been renamed 'National Agency for Voluntary Blood Donor Recruitment'.
He told The Point that the association appointed one Bai Samba Njie as its chairman, when it was launched, to run the day to day affairs of the association. He noted that despite being the chairman, he has no right to rename the association without the consent of the entire membership.
"Even though Njie has the right to form his own association, he doesn't have any right to rename an association that employed him," he said.
He revealed that in 2002 the association had funding from the World Bank, and decided to appoint Mr. Njie as Project Director and one Mr. E.G. Sarr as Blood Recruitment Officer.
According to him since 2002 the association has never gone to a congress or held any management meeting under the leadership of Mr. Njie. He alleged that Mr. Njie has violated the constitution of the association.
"As at now he is unable to do any blood recruitment because all the blood donors have boycotted him," Mr. Bojang pointed out.
He also accused Mr. Njie of seizing the properties of the association including office equipment and registration certificate.
Meanwhile, reacting to the allegation, Mr. Samba Njie when contacted said that Gamblood is indeed changed to National Agency for Voluntary Blood Donor Recruitment. He was asked where Mr. Bojang was when Gamblood was formed. He said that Bojang is not a founding member of the association. He noted that he was the president of the association from 1991 to 2002 and in 2005 he was appointed project manager. He said that after the project phased out he called on the 'original members' asking if they would like to continue to operate as Gamblood or not. He asserted that members showed no interest at the time and he decided to go ahead by renaming it to keep things moving.
Read Other Articles In Article (Archive)