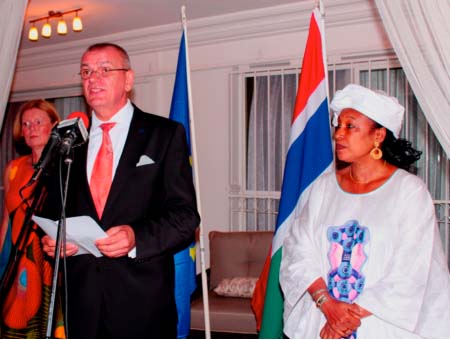 The Ambassador of the European Union to the Islamic Republic of The Gambia, H.E. Attila Lajos, on 9 May joined the rest of EU countries to celebrate Europe Day.
The event, held in The Gambia at the EU Ambassador's residence, was attended by heads of diplomatic missions in The Gambia, government officials, partners, and representatives of the private sector.
In his a speech on the occasion, the EU Ambassador to The Gambia said it was a great pleasure to celebrate together Europe Day, which is held every 9 May.
The occasion is a symbolic day, marking the beginning of a great project, a unity of European nations living side by side in peace and prosperity.
"I know many people today are asking whether we still have reasons to celebrate Europe Day," the EU diplomat said.
"For the first time in our history, our European Union faces an existential threat," he said. "This is not simply about terrorism. We have the tools to defeat the terrorist threat and prevent radicalization."
According to Ambassador Lajos, when he travels around in The Gambia, people look at Europe with much admiration and hope.
"It is true that despite our internal difficulties, we are an example of a successful process of regional integration.
"In no other place is there so much freedom, freedom to speak our mind, freedom to move, freedom to pray and not to pray, freedom to love, freedom to vote, freedom to choose our own destiny and work to make it real."
He added: "I am proud that Europe is the first donor for humanitarian and development aid. I am proud that the EU has emerged as a diplomatic power. Too often we forget how strong we can be."
This, he noted, was why they need Europe Day, to be proud of what they had achieved, to keep in mind that they could not take it for granted, and to realise that Europeans, as do non-Europeans, need Europe.
"It is, therefore, our mission to show a good example, without imposing.
"It is our mission to promote human and democratic rights globally, and encourage and support our partners in achieving their commitments to the universal standards."
He added that it was their mission to assist their partners in their efforts to develop their countries by delivering cooperation aid and assistance, as mutually agreed.
"It is our mission to do our very best for the entire world to become a better place with a stronger European Union."
According to Ambassador Lajos, the year 2016 would be decisive for the EU-Gambia relations with his appointment as the first EU Resident Ambassador.
The EU had so far valued its partnership with The Gambia, and all the actors it is made up of, he said, adding that there are issues that challenge them.
However, he said, it is fundamental that both parties are open to discuss the issues which raise concerns, in an open, respectful, frank and constructive dialogue.
"I am forward-looking and personally committed to enhancing this meaningful partnership between the European Union and the Islamic Republic of The Gambia, for the benefit of the good people of The Gambia."
In her speech on behalf of the Gambia government, the Minister of Foreign Affairs, Neneh Macdouall Gaye, said the day was not only for the European Union, but the entire world celebrates the dawn of peace, unity and cooperation in international relations.
She said the Islamic Republic of The Gambia values its relations with the European Union.
"Our relationship is one of cooperation and partnership, and as partners we have engaged each other through constructive dialogue as a means of reaching a common ground and follow effective and efficient strategy for the achievement of our shared objectives of development and progress across all sectors. We are, indeed, hopeful that our relations will go from strength to strength based on understanding and mutual respect.
"We acknowledge that the responsibility is not one-sided; therefore, the Gambia government is committed to the Rabat process as we follow through on implementation of recommendations made at the recently-concluded Valletta summit on migration."
The Foreign Affairs minister also said that today, Europe and the rest of the world "face a common demon and share the same concern about international terrorism".
The dreadful terrorist attacks in European capitals and other parts of the world, such as Abidjan, Bamako, Istanbul, Beirut, Lahore and countless other cities, has caused immense loss and suffering.
"It is, therefore, time for a concerted effort of the international community to combat terrorism, as no single community can do it alone," she added.
She recognised that the European story of integration had proven that integration brings lasting peace, opens larger markets and creates greater solidarity.
Read Other Articles In Article (Archive)