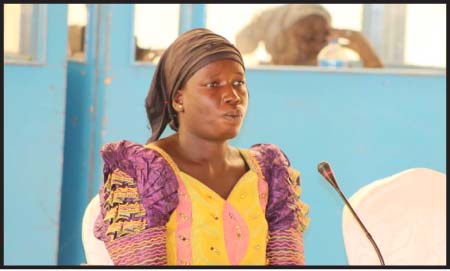 Amie Njie, a native of Bunyadu village in Nuimi on Monday testified before the TRRC during the regional hearings in Essau. She narrated how her husband was abducted by witch hunters in 2009.

Ms. Njie, a gardener, and a business woman told the TRRC that her husband passed away 6 years ago; adding that her late husband's name was Lamin Sonko and they had 5 Children.
According to her, the husband was a watchman at the Essau Nursery School. She added that her husband was not aggressive but had an impairment (eye sight), saying he was born with it.
She added that in 2009, her husband was arrested and accused of being a wizard and he was eventually taken away.
"My husband returned from his work and came to the house and as we were having our lunch, some people dressed in red accompanied with soldiers, PIU officers and green boys opened our door and entered. They were more than 10 people. They had pickaxes and spades and told my husband that he should go with them to the Bantaba."
Ms. Njie explained to the commission that they were terrified as the witch hunters had a big mirror and were searching all over the compound.
She continued that the soldiers were armed with guns; adding that she later heard drumming from the Bantaba but was told that it was the witch hunters that were arresting supposed witches. She recalled that the husband was asked to board a bus.
However, prior to that, they arrested one of her husband's brothers as well.
Describing the scene at the Bantaba, she revealed that there were many people, as the witch hunters continued to hunt for alleged witches and wizards.
"I was terrified because of the manner they came to my husband. My husband was someone who was scared at the time they arrested him," she said.
According to her, people who followed the captives informed her that all those that were captured were taken to Barra but were subsequently taken to Banjul.
Madame Njie further adduced that she later heard that her husband was taken to Baba Jobe's compound in Kololi and she went there to visit him but didn't see him.
"My husband was taken along with one of his uncles, Gibbi Sonko. However, when we arrived there, the soldiers on duties said people were not allowed to visit anyone and I returned after 2 p.m. without seeing him."
"I was upset because the reason for my going was to see him. My husband was held for five days and on the sixth day he came back."
Further, she testified that her husband was injured on his ankles and elbow, adding she was informed that he was injected.
According to her, the injuries he suffered on the knees were the result of the concoction he drank which made him unconscious and fainted t, hurting his knees. She said that her husband was injected in his waist which later became swollen.
"I used hot sand and a piece of cloth to massage the swollen part." Njie sympathetically stated. She added that the swollen waist of her husband was dark and had a black mark.
"I was shocked and saddened by the death of my husband because he was responsible for my family. As a result of his illness, my business was seriously affected and my children's education retarded. My husband died less than year of his release."
Mrs. Njie expounded that the witch hunters are responsible for the demise of her husband; adding the former President Yahya Jammeh was also responsible for her late husband's death.
On the impact it had on her, she said it was huge because he was in charge of their children's education. She claimed that her oldest son wanted to further his education but he was unable to do so while the second one stopped at Grade 8.
"Now I am the sole breadwinner of my family."
She finally testified that both she and the children are stigmatized.
"I am alone now and had no one helping me everything is on my head," she cried.
Read Other Articles In Article (Archive)