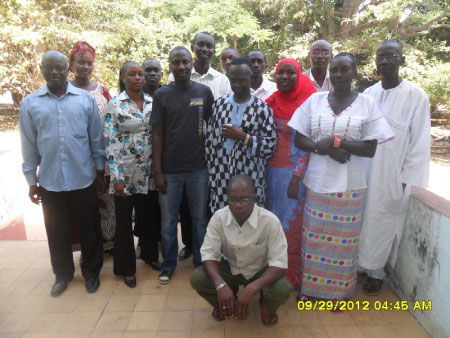 The Educational Research Network for West and Central African (ERNWACA) recently held a workshop at its head office at No. 3 Mile 7 for their partners.
Speaking at the workshop, Makaireh A. Njie, National Coordinator, disclosed to the workshop participants that ERNWACA is a research network comprising 15 countries of both Anglophone and Francophone speakers.
"But recently during a meeting held in Mali, Bamako, and after that meeting Guinea Bissau has been accepted as a member of ERNWACA so the membership of ERNWACA is now increased to sixteen countries," he said.
He said ERNWACA has a network of over 300 researchers, noting that they have chapters in the following countries: Ghana, Nigeria, Senegal, Ivory Coast, Cameroon just to name some, thus they meet once or twice a year to exchange research results.
According to him, ERNWACA regional office is based in Mali, Bamako, thus at the regional level they also have what they call the Regional Scientific Committee (RSC).
He noted that any research proposal, finding or work would be subject to an evaluation by the RSC.
"So ERNWACA Gambian chapter's research works were submitted to the ERNWACA regional office in Bamako to be looked at by a number of professors and then they will have a feedback from them," said Njie.
Mr Njie said ERNWACA has a chapter in the country coordinated by him (Njie) and for the past years they have conducted several researches in West and Central Africa.
He added that most of the Social faculty students at the University of The Gambia (UTG) do come to their ERNWACA Gambian chapter office to do their research projects.
He revealed that ERNWACA provides annually about three million CFA for young researchers and lecturers to undergo research projects.
Awa Sillah, assistant researcher of ERNWACA's Gambian Chapter, took participants through the findings of ERNWACA 2011 grant project while Bokary Secka, mentor for ERNWACA 2011 grant project dealt on the topic, 'Challenges of High Education in The Gambia'.
Read Other Articles In Article (Archive)