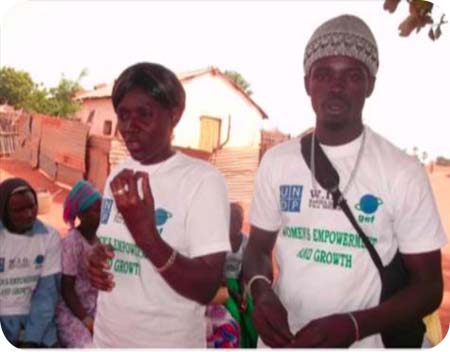 With support from the UNDP/GEF-SGP Women's Initiative-The Gambia (WIG), in collaboration with Bee Couse The Gambia, Sunday began a seven-day training of trainers course on modern beekeeping.
The training activity was held in the villages of Njau Sawalo, Jarreng Passy, Wellingara Alpha in the districts of Upper Saloum and Nianija respectively in Central River Region North.
Isatou Ceesay, WIG project coordinator, in her statement, gave a brief introduction of the project, adding that the training session was among the three components of the project, which aimed at creating job opportunities and income-generation ventures for women and youths.
According to her, this particular training exercise did not only look at beekeeping, but also focused on how to protect the forest and tree nursing techniques to replace lost trees.
Declaring the training workshop open, Seyfo Malick Mbye, chief of Upper Saloum, described beekeeping as a noble profession, adding that it could contribute to the socio-economic development and well-being of the people.
According to him, there is an enabling environment created by the government for people, especially women, to engage in any meaningful activity to earn a living.
"The gains and benefits that are derived from engaging in beekeeping are quite significant, and can help one to attain sustainable living conditions," Chief Mbye told the participants.
The training course, he added, was quite relevant and timely, as it would go a long way in boosting the living condition of the people, and thereby reducing poverty.
Chief Piere Bah of Niani District and Chief Mam Samba Jallow of Sami District, both expressed similar sentiments; calling on the youths to engage in meaningful economic activities, in line with the PAGE and Millennium Development Goals.
They urged participants to adequately share the knowledge gained from the session with others who did not have the opportunity to attend the programme.
Kebba Touray of BeeCause, an expert in beekeeping training, honey production and harvesting, said training women and youths in beekeeping is essential.
The training course comprised skills acquisition, building bee hives, production techniques and forest protection and conservation techniques, among others.
He added that beekeeping is another method of farming, and honey is very important to human health, because it has several medicinal values, serves as an antibiotic, for example, a cough syrup for children and adults, and for income-generation ventures as demand for honey is high.
According to him, bee wax is used to make cosmetics such as lip shine, body lotion, soap, candles, and shoe polish, among others.
At BeeCause-The Gambia, they provide technical and theoretical instructions in beekeeping to support rural farmers, so that they could be successful in beekeeping, promoting and supporting beekeeping for improved livelihoods and sustainable development, and also to foster and support The Gambia's beekeeping industry, through a market-oriented approach to sustainable development.
Binta Jallow, co-trainer from BeeCause, spoke about the importance of women's participation in beekeeping, adding that beekeepers need modern day technology to operate.
According to her, it would ensure high productivity as compared to the procedures used before; thus that it would also ensure high income for beekeepers.
"Through this training we will learn a lot from each other, because this is the first training as far as UNDP/GEF-SGP funding is concerned and I'm counting on your full support to see to it that Women Initiative Gambia, our goals and objectives are achieved in this direction," Jallow stated.
Ms Jallow thanked Women Initiative-The Gambia for organizing the training activity, and for actively participating in the training exercise.
Elliman Ceesay, a community-based facilitator for WIG, urged the participants to be honest, reliable, confident and to have integrity in their work, if they want to get respect from the people.
Ceesay further advised the participants to take the training course seriously.
Modou Lamin Kinteh, chairman of Friends of Nature, in his presentation, talked about the importance of tree nursing, forest management and protection; relating it to traditional ways of honey harvesting, which sometimes caused bush fires.
His presentation looked at the status of the forest from national and local levels, and differentiated the different levels of community participation in the protection and conservation of forest resources.
Mr Kinteh spoke of the importance of tree planting, especially our indigenous trees, which are in decline due to their high demand in the market.
Read Other Articles In Article (Archive)