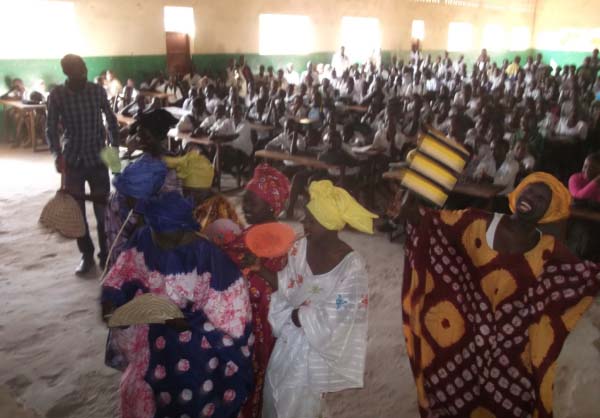 A delegation of nature lovers and environmental protectors from Germany called Nature Friends International recently visited St. Edward Upper Basic School in Bwiam, as part of their annual routine conservation tour in Africa led by Friends of Nature Gambia.
The delegation was well-received by the community of Bwiam and school children of St. Edward Upper Basic School, with warm welcome songs and chanting led by the staff of the school.
At least twelve indigenous trees were transplanted bearing the names of each delegate, signifying the importance of the strong friendship in nature protection and conservation of flora and fauna, especially indigenous trees that are linked to the country's cultural and traditional beliefs, as part of symbolizing true friendship between St. Edward Upper Basic School and Nature Friends lovers.
Speaking at a gathering held at the school assembly hall shortly before the transplanting exercise, Momodou Lamin Kinteh, chairman of Friends of Nature Gambia link coordinator in The Gambia, hailed the school for their warm welcome given to the delegates.
Mr. Kinteh highlighted the importance of forest conservation, especially of the country's indigenous tree species, which are tied to our traditions and culture.
He added that the visit was meant to provide a unique opportunity for members of Friends of Nature International and their nature schools (Gambia) to interact, learn, share and network to promote the protection of nature in The Gambia.
According to him, this was part of the weeklong visit and activities, whereby foreign delegates and their Gambian counterparts would be engaged in a series of programmes, visiting national parks, nature friendly schools and communities, designed to provide platforms to interact and learn from each other, including cultural and traditional performances.
He thanked the German members of 'Friends of Nature International' for making their way to The Gambia, and assured them of their commitment to promote nature for sustainable development.
Mamadou Mbodji, chairman of African Friends of Nature Network, who doubles as the vice president of Nature Friends International, said he is proud that the school has more girls than boys, and about the engagement of young people in nature conservation.
He said children are the future leaders and nature protectors of the African continent, and thus encouraged and called on more young peopleto be involved in conservation practices for sustainability of our flora and fauna for generations to come.
Mbodji advised student to concentrate on their education if they are to achieve their goals in life, by concentrating on their education for economic empowerment.
Herbert Bruchner, Honorary Life President of International Nature Friends, said the purpose of the visit was to meet people, particularly nature friends and conservationist in The Gambia, to familiarize themelvess with the work they do in the country.
Mr. Bruchner revealed that the overall objective was to create networks between nature friends from Africa and Europe, and within and among African countries.
He noted that Friends of Nature International is in ten African countries, including Senegal and The Gambia.
These African member organizations has created a network in Africa to bridge gaps and build mutual understanding among member countries; thus learn and share experiences to better promote the welfare of the continent's nature for economic empowerment, he said.
"We want to encourage local nature friend groups at grassroots level who would nurture the culture of environmental protection, and respect the protection of nature," he added.
Ms Petra Muller said Nature Friends International is the global umbrella organisation and a member of the Green 10, the platform of the ten largest European environmental organisations.
She added that nature friends are internationally, ecologically and socially minded on environmental protection and social justice, which are the causes espoused by the Nature Friends' movement, which is global in character and democratic in structure.
The focus of Nature Friends' activities is on designing and implementing sustainability schemes for the environment and for the society at regional, national and international level.
Nature Friends stand for tourism and leisure activities that are socially equitable and in tune with nature, the protection, preservation and dynamic interpretation of our natural and cultural heritage, and the promotion of sustainable mobility as a contribution to climate protection.
Nature Friends champion nature interpretation, inspiring people to connect with and to preserve the natural environment and to introduce them to biodiversity, which are major concerns of the Nature Friends, she said.
Respectful sustainable tourism
Nature Friends advocate a socially, culturally and ecologically benign development of tourism.
Climate protection
Nature Friends are actively engaged in environment and climate protection, organizing pertinent campaigns and projects.
Sustainable regional development
Nature Friends activities are designed to support regions in opting for sustainable tourism.
Political commitment
Nature Friends are engaged in lobbying and educational activities, as well as in intensive networking with a view to popularizing issues relating to the environment, to the climate and to social policy at regional, national and international level.
Worldwide solidarity
Nature Friends put in train intercultural projects and encounters and demand fair and respectful behavior vis-à-vis all people, irrespective of their ethnicity, sex or religious beliefs.
Philip Bass, the principal of St. Edward Upper Basic School, assured their visitors of the school's interest and commitment to the protection and conservation of nature.
He added that social and environmental studies is among the subjects taught in the school, and the school has an environment club whose members are responsible for keeping the school campus clean in collaboration with the school care-takers.
Read Other Articles In Article (Archive)