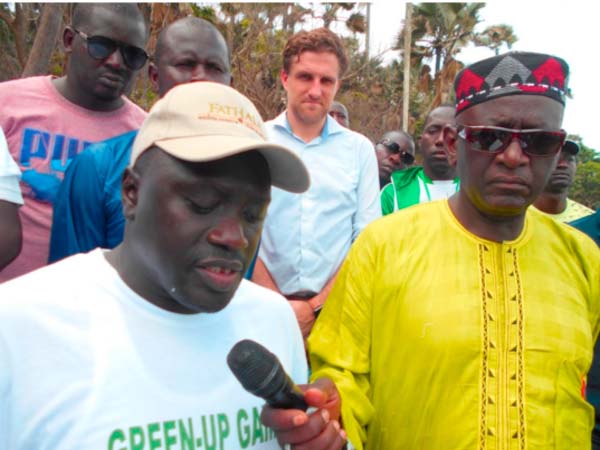 The Minister of Environment, Climate Change and Natural resources Hon. Lamin Dibba, over the weekend presided over the official launching of the 2017 National Tree planting Day at the Monkey Park in Bijilo.

In a keynote address, Minister Dibba welcomed everybody to the 2017 launching of the national tree planting organised by the department of forestry in collaboration with the forest users association, shipping agents and other stakeholders.
He noted that the rainfall pattern in the past years has been quite unprecedented in terms of variability and its erratic nature.
"We have experienced dry spells in the beginning of previous seasons, which was neither conducive nor favourable to any planting activity. This deemed the official launching of the tree planting," he said.
He added that the government under the new dispensation has taken a bold initiative to restore the degraded sites annually as a response to combating the deforestation and land degradation in The Gambia.
According to him, the initiative has now been decentralised with the forestry policy, adding it has been vigorously pursued by the department of forestry in collaboration with partners, and with the offices of the regional governors, area councils and environmental groups as well as school community-based organisations.
He declared that the objective of the initiative was to engage everyone in The Gambia to plant a tree during the rainy season to serve as a replacement for lost trees in and outside the forest.
He lamented that the rate of loss of trees and their diversity as revealed by the National Forestry Assessment of 2009 to 2010 has been quite alarming.
Hon. Dibba further noted that the national tree planting is a response to this demand, offering all the opportunity to join the crusade to replace more trees and fulfill the commitment of the country in the SDG's and the national development plans.
He implored everyone to reflect and plant a tree to restore the huge area of the degraded forest in the country, which was due to the combination of factors including illegal and indiscriminate tree felling, bushfires and changing of forest to other land uses.
"I also implore upon the rural community to further embrace the participatory forest management approach of the department of forestry so that more forests are brought under sustainable management," he stated.
Read Other Articles In Article (Archive)