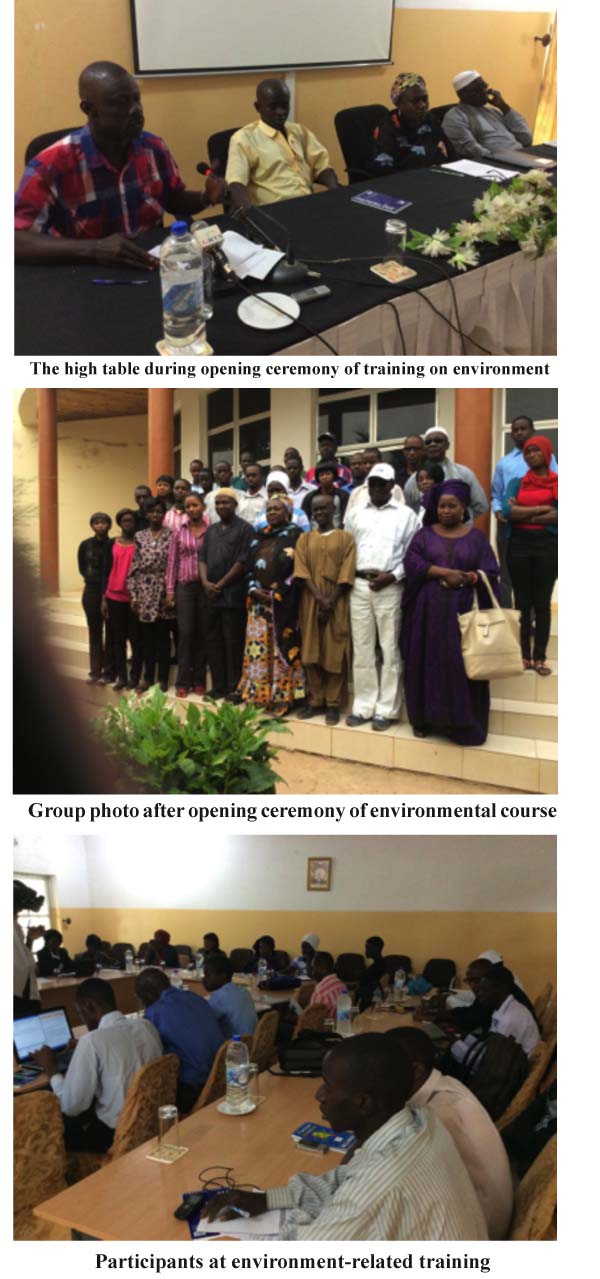 Fatou Sosseh-Jallow, deputy permanent secretary at the Minister of Fisheries, has said between 1970 and 2000, the natural wealth of the earth's forest, fresh water ecosystems, oceans and coasts declined by 33 per ce
She pointed out that today, 58 per cent of the world's coral reefs and 34 per cent of all fish species are at risk.
Madam Sosseh-Jallow was speaking on Monday during the opening of a two-day training organized for over 30 environmental journalists from both the print and electronic media by the National Platform for Sustainable Fisheries of The Gambia with the collaboration and support of the EU/UNDP and WWF-WAMPO at NaNA.
Within the next 25 years, 48 countries accounting for 35 per cent of the world's projected population would face water shortage, stated Ms Sosseh-Jallow.
Over the next 50 years, the world's population is estimated to grow by 50 per cent to 9.3 billion, she added.
Virtually all of this growth would be in developing countries, Ms Sosseh-Jallow said, adding that the poorest countries would see their population grow from 668 million to 1.8 billion people.
"The world has not managed its natural resources well and as a result, fisheries and its problem would almost certainly get worse before it gets better," she said.
Therefore, while long-term solutions to the world's major environmental and food security problems depend significantly on action from the wealthy and most industrialized countries, day-to-day survival for the poor and marginalized would depend increasingly on the careful local management of natural resources in a context of increasing scarcity and demand, said DPS Sosseh-Jallow.
"Add to this, the impact of AIDS, which has already killed an estimated 7 million agricultural workers and predicted to kill another 16 million by 2020, will in the coming years present unprecedented challenges, especially for the rural poor," she also said.
"As journeys to find firewood gets longer, maintaining the fertility of the soil gets harder, catches of fish gets smaller and the hands to do the work get fewer, the need to effectively manage natural resources has never been greater before," she stated.
Similarly, she continued, improving communication as a tool to share these resources would require dialogue and compromise at global, national and local levels.
Further benefits need to be weighed against immediate costs, and short-term interest against long-term sustainability, she highlighted.
Having identified these problems has led to new approaches to communicating with rural people that sought a better understanding of their local situation and involved them in identifying the issues that affected them most directly, added Madam Sosseh-Jallow.
This led to the adoption of techniques such as rapid rural appraisal, ecosystem approach to fisheries and fisheries management, precautionary approach, which enabled development workers and other outside "experts" to gather simple data quickly on issues identified at local level.
She recalled that the national platform for sustainable fisheries was created in 2013 with co-funding support by EU/UNDP and WWF- WAMPO, under the project entitled "governance", marine resources management policies and poverty reduction in the West Africa marine eco-region in six countries of the sub-region: The Gambia, Senegal, Mauritania, Guinea, Guinea Bissau and Cape Verde.
According to her, the main objective of the project is to contribute to poverty reduction and strengthen food security of the coastal communities of the West Africa Marine Eco-Region (WAMPER) through the improvement of governance and promotion of the adoption of best practices in terms of sustainable utilization of marine and coastal resources in the eco-region.
In a committed and collective spirit of cooperation, the training was aimed at equipping journalists in improving their know-how on environmental issues taking into account international conventions, protocols and instruments on responsible natural resources management for the benefit of now and future generations.
The fisheries sector accounts for about 5 per cent of our GDP, and employs directly and indirectly 200,000 or more, including fishermen, fish processors (smokers and dryers) boat builders, DPS Sosseh-Jallow stated.
Fisheries products also provide for the nutritional needs of the population, thereby increasing food security, and improving health in the country, she went on.
The Government of The Gambia, under President Yahya Jammeh, spares no efforts at developing various internationally recognized fisheries development policies and projects.
As journalists in natural resources sector we are expected and required to be engaged on the continued capacity development on information, education and communication as it relates to natural resources conservation, management and development, so that reporting, mistakes, misinformation and confusions are avoided to a large extent.
[endif][if gte mso 9]
[endif][if gte mso 10] [endif]
Read Other Articles In Article (Archive)