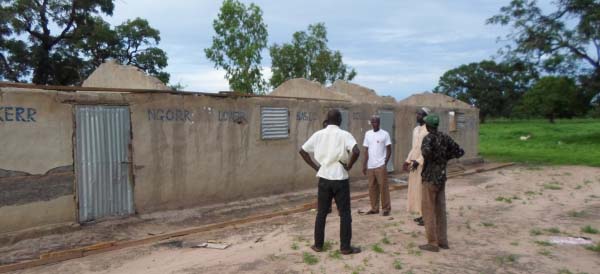 The North Bank Regional Disaster Management coordinator has called on the communities of Kerr Ngorr and Kerr Samba Chargie of Jokadou to desist from settling on waterways and to be carrying out proper environmental impact assessment before putting up structures for human settlement.
Momodou B.K. Ceesay was speaking on Tuesday to the people of Kerr Ngorr and Kerr Samba Chargie of Jokadou following a heavy storm that blew off a 3-classroom block and office at Kerr Ngorr, and a structure which collapsed at Kerr Samba Chargie community Lower Basic Schools.
He made these remarks during the assessment of regional disaster management committee to the affected communities.
Mr Ceesay said the communities have important roles to play in mitigating the effect of disaster.
Alpha Mariam Khan, Kerr Jarga ward councilor, who doubles as vice chairperson of Kerewan Area Council, calls on the communities to be vigilant and to seek technical advice before putting up structures.
He used the launch to call for more resource mobilization to support regional disaster management committees to respond to disaster.
Ousman C. Jallow, NBR Branch Officer, pointed out the need for timely communication and reporting of imminent mishaps to disaster committee.
He called on district and village disaster management committees to carry out proper assessment of disasters to ensure accurate data compilation.
Ndenneh Johm, chairperson of the School Management Committee of Kerr Ngorr Lower Basic School, and Oustass Ebrima Nyang of Kerr Samba Chargie School, used the occasion to appeal to the Ministry of Basic and Secondary Education, National Disaster management Agency and philanthropists to come to their aid.
Without timely support the damage and disruption would affect the education of children at the school, which has a population of over 400 students, he said
Read Other Articles In Article (Archive)