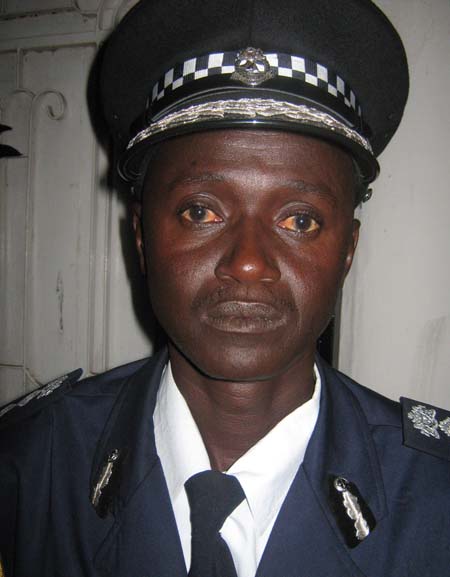 Ensa Badjie, former Inspector-General of Police, yesterday narrated what he said was his ordeal at the National Intelligence Agency (NIA) and after his arrest.
The former chief of police told the court that he was seriously beaten and abused during the process of obtaining his cautionary statement.
Badjie, who is facing a 51-count indictment, was testifying in the voire dire trial (trial within a trial) to ascertain the voluntariness of obtaining his cautionary statement, which was an issue in main trial before Justice Emmanuel Amadi at the High Court in Banjul,  involving him and two military officers, Lt. Colonel Mam Matarr Secka and Major Kuluteh Manneh.
The former police chief denied before the crowded courtroom that Babucarr Khan, an independent witness, was present when his cautionary statement was obtained at the NIA office.
"My lord, I have never seen Babucarr Khan at the NIA, both on the 7th March 2010 and on the 2nd of March 2010," he said.
"I was called by the Director General of National Intelligence Agency, Numo Kujabi, to meet him at his office at the agency."
According to Ensa Badjie, when he met the NIA Director-General at his office, he told him that he got an executive directive from the President that he (Badjie) should be taken to Mile 2, the state central prison.
"Before taking me to Mile 2, I was given a dismissal letter at the NIA. I was later taken to my residence, and a search was conducted and nothing was found in my residence. From there, I was taken to Mile 2," Badjie, who was shedding tears, told a crowed courtroom.
The embattled police chief further adduced that on 2nd March, he was taken to Mile 2 prison without being cautioned or charged, adding that on 7th March, he was again taken from Mile 2 prison by the NIA and some police officers to the NIA office in Banjul.
"On arrival at the NIA, I was received by the head of the investigation panel, Omar Cham, who took me to another office upstairs before entering the conference hall," he added.
"I was handcuffed behind, and asked to knell down, which I complied with and, after few minutes, he came with four cautionary statements already written," Badjie said while shedding more tears in court.
He continued: "My name was written on the statement, and I have never recorded those cautionary statements. Omar told me to go over the said statements and sign, which I refused to do so.
"I told him (Omar), over my dead body, I will not sign." "Omar Cham brought a nylon bag and pulled it over my face, while my hands were cuffed behind. Two others started beating me all over my body," he told the court, while weeping.
Ensa Badjie further told the court that Omar Cham is presently detained at the NDEA office.
Badjie, who in the open court removed his shirt to allow the presiding judge have a good view of parts of his body where he was beaten, while at the NIA, added that he was seriously bleeding through his mouth and nose because of being beaten.
He adduced that he was subsequently brought down by the NIA officer, Omar Cham, to a nearby tap for him to wash his face in order to remove blood from his mouth and face.
"I was again brought to a small office, and he (Omar) asked me to sign, and as I was talking blood was pouring from my nose onto the cautionary statement, and again I refused to sign," he told the court.
"As more blood spilt over the statement, he (Omar) tore the statement, and then gave me cotton wool in order to stop the bleeding," Badjie went on.
Further narrating what he said was his ordeal, Badjie added that he was taken to the conference hall at the NIA, where he met three police officers, and four to five NIA officers, adding that as he was seated, he asked the panel members whether he deserved being beaten like a dog.
"When I told the panel members this, some started crying and could not look into my eyes," Badjie said in a loud voice while still crying in the dock.
"I told Omar Cham and others that I wanted to see the DG NIA, Numo Kujabi. I spoke to Cham, and one of the directors. It proved to be negative, as I could not see the DG NIA."
Ensa Badjie said he asked Cham who gave the directive for him to be tortured, and that Cham, in reply, said he (Badjie) knew who gave instructions.
He also told the court that while narrating his story to the panel, he was humiliated and abused by some members of the panel, which caused a big row among them.
Badjie, who testified on his own behalf as a defence witness, also said that there was a big quarrel among panel members, adding that some felt that a proper investigation into his case was not carried out.
Still narrating what he said happened at the NIA office, Ensa Badjie said: "The handcuff on me was tied to such an extent that my blood almost stopped running, and later the cuff on my left hand was removed and the cuff was in the right hand.
"While I narrated my story, Ballo K. Jobe was recording my cautionary statement at the conference hall.
"As I was talking again, blood was oozing from my nose and onto the statement, and they had to tear the statement on two occasions.
"My lord, Baboucarr Khan was never present, except on 13th March 2010, when I completed my statement. After the so-called confrontation, as we were about to leave, I saw Khan."
According to Badjie, there was no iota of truth in Khan's assertions, adding that he signed the statements on 10th March 2010 around 12 midnight onwards.
He said he refused to sign them on 7th March 2010, because when he went through the said statements, he found that many things that he did not say, and figures that he did not give were in the contents of the said statements.
"I refused to sign, and I was kept at the NIA, due to the fact that I was bleeding and having a swollen face with some injuries on my body," Badjie told the court.
"Alhagie Morr Jobe brought me a body rub for me to use, because of my swollen face." he told the court.
He added: "I left the NIA on 7 March 2010, without appending my signature on the said statements and, on10th March 2010, at around 11 pm, while in my cell at Mile 2, a prison officer E.R Jobe came and opened the cell, and told me that I was needed at the NIA."
"I told the prison officer that I am not supposed to leave my cell after 6 pm, according to the Prison Act. He then escorted me outside, where I met two NIA officers standing around the Director of Prison's office with a pickup vehicle," he adduced.
"As there was light, I recognized them as Babucarr Sallah and Korko Bah, both NIA officers, who were formerly military officers," he said in his voire dire trial.
He adduced that the two NIA officers handcuffed him at the back in the presence of PO Nuha Darboe, a prison officer."
"We boarded the car heading toward Serrekunda and I protested, and they finally took me to the NIA, where I was taken to the conference hall. There, I met Omar Cham with some officers without even any light in the room," he further said.
Ensa Badjie told the court that he was again asked by Omar Cham, why he failed to sign the said statement, and responded that the content of the statement is not what he said.
He said Omar Cham that night removed the back handcuff, and placed them in front, and he was asked to sit.
Tears rolled down his face, as he narrated what he said took place that night at the NIA conference hall, how he was abused and tortured.
Subsequently, his lawyer Borry S Touray applied for an adjournment, and the case was adjourned until the 13th and19th January 2010 for continuation.
Read Other Articles In Article (Archive)