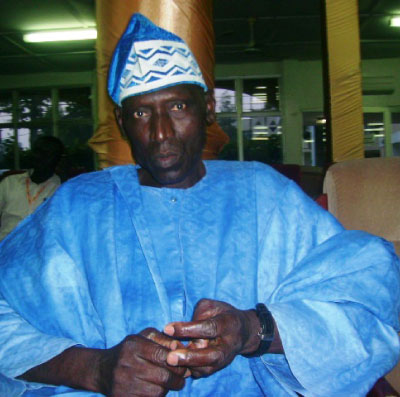 Former National Assembly Member for Wuli West constituency, Sidia Jatta, has opined that the fact that elections in The Gambia are "not free and fair" was the reason why the opposition parties decided this year that "enough is enough" and "would stand and defend the fundamental rights and freedoms of the people of this country".
Jatta, who was addressing journalists at a press conference held at the Peoples Centre in Churchill's Town yesterday, said the opposition felt that the time has now come for them to refuse to continue to legitimize something which is illegitimate.
According to him, he could have won very easily in the last parliamentary elections in Wuli Wast in spite of all the irregularities, but to have one, two or three people in the National Assembly does not solve the problem of the Gambian people.
The former Pan-African parliamentarian, who lost his seat due to the opposition boycott of the March 29 polls, said the essence of being in the National Assembly is to be able to bring about fundamental changes in the lives of the people of this country, and that one person winning in a constituency cannot bring that about.
"If I were to be in that Assembly today, Gambians and the international public will think that something legitimate is happening in The Gambia, and that elections in The Gambia are free and fair, because an opposition member has won and is speaking in the parliament.
"Anybody who is familiar with the Gambian situation knows that is not true; and that is why the opposition parties, this year, have decided that enough is enough, and we stand and defend the fundamental rights and freedoms of the people of this country, and combat the abuse of incumbency and all the irregularities which marred elections in this country," he said.
Jatta, who said the press conference was meant to thank the constituency of Wuli as a whole and Wuli West, in particular, for having consistently and fervently supported his candidature for the last 15 years, denied widely held beliefs that the opposition boycotted the elections.
"We did not boycott any elections; we identified numerous irregularities that marred free and fair elections in this country, and even the IEC agreed that there were irregularities," Jatta stated.
He explained that when the PDOIS party emerged in 1986 under the first Republic, the fundamental objective was precisely to deal a blow to that political landscape which existed then, which "was not level and which continues to exist up to date".
"Our objective was to bequeath to the coming generations, a political landscape which will be so free that nobody will feel intimidated or frightened to express him or herself sovereignly in determining who to choose as a public trustee.," he added.
That situation, he went on, continues to exist today, even in its worst form.
"Our historic objective was to bequeath to the coming generation, a country where people will be so free and so empowered that no politician will throw dust into their eyes," Jatta said, adding further that 26 years after their existence, that situation still leaves much to be desired.
"My party PDOIS has had to go into different political arrangements because of the fact that section 48 (1) of the constitution has been amended out of the constitution.
"That section states that in a presidential election, if no candidate obtains more than 50% of the votes cast in that election, then there has to be a second round of election in which the two candidates with the largest number of votes will contest," he stated.
That section, he noted, has been amended out of the constitution "which means that we don't have a second round of elections in the presidential election anymore.
"Because of this, opposition political parties have thought it necessary to think of ways of joining their forces with a view to combating this nefarious abuse of incumbency, and create a political landscape where people will be free to express themselves sovereignly in determining whom to choose as their public trustee," Jatta concluded.
Read Other Articles In Article (Archive)