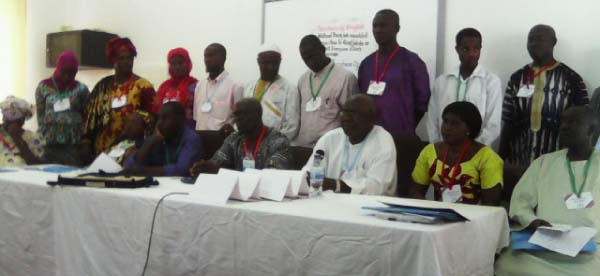 English language teachers have established a structure called the Association of Teachers of English-The Gambia (GATE) at their first-ever congress held on Friday in Kanifing.
Since its formation in the 70s, the core subject association has been in the hands of interim committees in its bid to improve the teaching and learning of English in Gambian schools.
The event sponsored by the United States Embassy in Banjul was well attended by staff of the Ministry of Basic and Secondary Education (MoBSE), Gambia Teachers Union (GTU), United States Embassy in Banjul, West Africa Examinations Council (WAEC), the Gambia National Library, NATCOM-UNESCO, and Future in Our Hands, which are among the association's key partners.
In his address to the gathering, Omar J Ndure, at one time president of the Gambia Teachers Union (GTU), who coordinated the association's transitional process, described the exercise as the pivot to the life of the group.
According to him, the historic transformation began in 2006 when action-oriented English teachers under his coordination devoted their labour to meet the goals of all their projects, mainly sponsored by MoBSE.
However, it was not possible for them to put up an elected administrative structure due to "lack of funds", he said. Mr Ndure, who was elected as chairperson of the association for a two-year term at the congress, promised to "raise funds to be able to provide professional activities for members and educational activities for students".
The guest speaker at the congress, Baboucarr Bouy, permanent secretary at the Ministry of Basic and Secondary Education (MoBSE) commended delegates for their resolve to democratically setup a governance structure.He referred to their association as a viable partner for his ministry in the quest for quality education.
He announced MoBSE's commitment to allocate an annual subvention of D200, 000 to all subject associations, including GATE.
Based on statistical records from 2007, he said, the ministry has noted a remarkable improvement in early grade reading skills of students in partnership with the English teachers' team.
PS Bouy noted that despite the progress they made in recent years, there exist challenges, owing to the poor performance of students in English Literature nationally.
According to him, GATE has a key role in enabling its members to use the new assessment policy of the ministry to add value to their work in the classroom, pointing out that gone are days when survey results are considered meaningless to the performance of the teacher.
The congress witnessed the election of Emily Gomez as vice chairperson, Gidda Khan as secretary general, Muntou Mboob as assistant secretary general, Kumba Manneh as treasurer, Rohey A Silla as auditor general, Joseph Mendy as organising secretary, Saffie Nyassi as assistant organising secretary, Sainey Gibba as public relations officer and Michael Secka as editor-in-chief.
Meanwhile, the following representatives were elected for various regions.
Momodou NS Jallow for Region One, Suntukung Ceesay for Region Two (Kombo), Pa Ansu Camara for Region Two (Foni), Kebba Sonko for Region Three, Elizabeth AG Mendy for Region Four, Muhammed Chuban for Region Five and Sarjo Bah for Region Six.
Read Other Articles In Article (Archive)