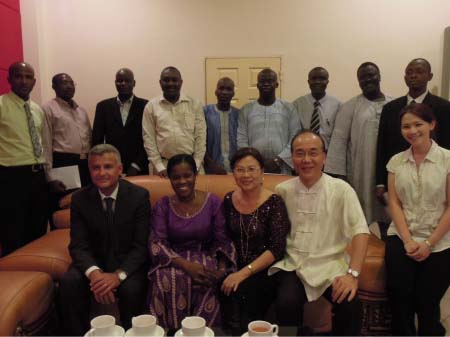 The Embassy of ROC (Taiwan) in The Gambia has initiated a 2-month training for Gambian tourism teachers in the National Kaohsiung University of Hospitality and Tourism in Taiwan.
The training is aimed at helping the Gambian tourism teachers to do field study on Taiwan's tourism industry to upgrade the Gambian tourism service level.
The programme is sponsored by the ROC Government, with a total of 8 teachers selected from The Gambian Tourism and Hospitality Institute (GTHI) to take part in it.
The Ambassador of Taiwan H.E. Samuel Chen hosted a dinner on 24 October which was attended by the Minister of Tourism and Culture, Hon. Fatou M. J. Njie, the Principal of GTHI, Mr Jose Juan Cardenes, the Vice Principal of GTHI, Mr Momodou L. Singhateh, and the 8 teachers.
During the dinner, Ambassador Chen applauded the cooperation of the Gambian Government. "We know the tourism industry is vital for the Gambian economy," he said. "That is the reason my government is willing to share the experience of hospitality and to sponsor this training programme and assist the Gambian tourism to reach higher level."
The Minister of Tourism, Hon. Fatou Mass Jobe-Njie, said tourism is a highly service-oriented industry.
She commended the good service of every field of work in Taiwan, whist appreciating the Taiwanese Government for what they are doing towards The Gambia.
She also encouraged all the programme participants to learn more new concepts and management service in Taiwan.
Designed by the National Kaohsiung University of Hospitality and Tourism, the training programme includes 4 teaching categories of Food Production, House Keeping, Front Desk and Events (Hotel Reception), and Food and Beverage Service.
ROC Government's support package for the 8 teachers, whose training runs from 28 October 2013 to 5 January 2014, covered their air tickets, tuition, insurance, accommodation and allowances.
Read Other Articles In Article (Archive)