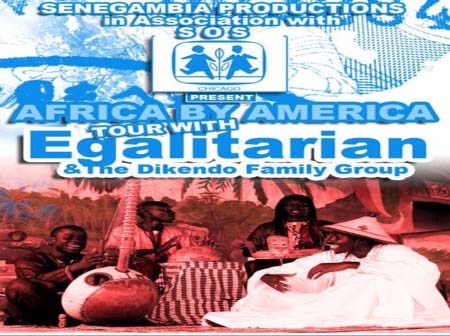 Senegambia Production, in association with SOS Children Village The Gambia, presents Africa by America tour with Egalitarian, Gambian Afro-Reggae singer and his Dinkendo Family Band Gambian.
It has announced that they will hold a concert in Florida in the United States of America (USA) on 17 November 2013.
"We signed a contract with Full Sail University in Florida and the concerts will attract different artistes all over the world and we are trying to sign a memorandum of understanding between Full Sail University in Florida and Gainako Entertainment so that Gambian artistes can go there to learn about musical theory," Egalitarian told Point Entertainment and Lifestyle in a recent interview.
After that, he said, they will be holding charity concerts for SOS Children villages in Chicago in mid-November 2013.
Egalitarian added that the theme of the concert is 'performing unique skills in performing, presenting and coaching in traditional art form'.
"It will be held in three venues, namely Chicago SOS Children Village, Lockport SOS Children Village and Casa Tepeyac SOS Children Village and the various performances of the concert are going t include cultural aspects to teach children how to play African instruments like Kora, Ballafon, Djembe and Hallam," he added.
He noted that as a Goodwill Ambassador of SOS Children Village The Gambia, he feels it vital to render his service beyond borders all over the world to contribute his quota to the future of these children.
He added that all his concerts are setup by Senegambia Music Promotion.
The musicians put together for it were all aged between 23 and 45:They include the brilliant Oumar Traore on Keyboard, Momodou Jallow (lead guitar), Pa Alieu Manneh (Bass), Pape Demba Samb (Sabar/percussion), Arame Sow (backup vocalist), Basiru Camara (Kora), Alhagie Cham (Backupsingers), Alagie Bakary Saho (Leeket/ Drummes) and many other prominent musicians.
The Dinkendo Family Band has compilations from locally released singles spanning a two-year period.It was during this time that Egalitarian truly came of age, both as a songwriter and as a musician.
His first recording with his band, the Dinkendos, remains one of finest Gambian releases, and launched his career.
Subsequent releases of his include Dinkendo, Fundin keal, Suka Debo, Vulture and Liberate Africa all followed with critical acclaim and growing popular adulation.
Egalitarian, whose really name is Momodou Lamin Bah, is the founder and Chief Executive Office of Gainako Foundation for Children Development and Against Ablation.
Gainako Entertainment has produced four albums, namely Fellow Suffers, Indigent world, Walk around, and Dinkendo.
He was given a hip-hop award by Optimistic Production for a single entitled called 'Suffer down in Ya yard' which also won the best track award in 2004 in Senegal.
He is a member of Artist United for Rap in Africa (AURA) formed in 2005, comprising seventeen artistes from ten West African countries.
AURA stands for the development of Africa and they tour Africa to spread the positive message. The tour continues in Europe including France and Switzerland.
Read Other Articles In Article (Archive)