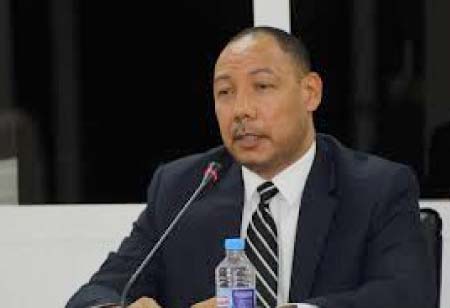 (Friday 18 October 2019 Issue)
On the second day of his testimony before the Truth, Reconciliation and Reparations Commission (TRRC) on Thursday, Edward Singhateh confirmed that on November 10 and 11, 1994, he shot a soldier, whom he cannot remember now, at Fajara Barracks and ordered the killing of 11 other soldiers at Yundum Barracks.
He said the shootings followed rumours of coup in the making and they decided to go to Yundum to appeal to the officers in a meeting for them to calm down.
"Sana Sabally told me to go with the officers to Statehouse because a coup is being launched and they will come to arrest us in our compounds. I told my brother to go along with me. When we reached Statehouse, we divided ourselves into three groups for that operation. One group stayed at the Statehouse, one went to the bridge and the other proceeded to Yundum."
He said their agreement was to take more prisoners; which meant to arrest more. He said before they were able to take over Yundum Barracks, there was exchange of gunshots for a couple of hours at both Yundum and Fajara Barracks but there were no casualties.
Lead counsel Essa Faal told him that many witnesses had testified before the Commission but did not say there were no gunshots, telling him that innocent soldiers were killed in cold blood.
But Singhateh insisted that he was speaking the truth, saying when they reached Abuko with Sana and the team, he asked them to wait while he went and checked the situation. "I went there, using the back way with Senghore and one other soldier. When we entered the Barracks, we could see more soldiers and movements. One of the soldiers came near us and I grabbed his neck, held his mouth and brought him back to avoid noise. Later, I heard gunshots and knew they were firing at their opponent, Sana."
He added that after taking the guardroom and the sentinels, a group was deployed to do the arresting. "Basiru Barrow was arrested upon arrival at Yundum Barracks and beaten. I didn't do anything to stop the beating because we were angry, as they wanted to kill us with our families."
The former junta member explained that they were informed that another coup was to be conducted at Fajara, and they proceeded and attacked there in three groups, adding that first group that entered the Barracks was led by Baboucarr Jatta, the second one was led by he and the third one by Sanna Sabally.
"I and my group went into a storey building and we were fired at. We later proceeded to an old mosque and there too, we were shot at and later proceeded to the guard room, but at the gate, someone was firing at us and we fired back to take the gate. I saw another soldier approaching us and I asked him to hold but he didn't and I shot him but he didn't die."
He told the Commission that throughout his military career, it was only once that he shot someone whom he could not remember. He said while at Fajara Barracks, he threw a grenade into the house where Bunja Darboe was, and later arrested and detained him.
He indicated that after clearing the camp, Sanna asked the prisoners to be brought and the commander shot two of them and the others ran but they were pursued.
Lead Counsel Essa Faal the read the statements of Sanna and others, which indicated that Edward had targeted the ring leaders and fired Lt. Basiru Barrow and Lt. Dot Faal. But he replied that he didn't fire at them.
Singhateh said after the execution at Fajara Barracks, they proceeded to Yundum Barracks where Sanna Sabally gave an order that the ring leaders should be executed. "Fafa Nyang, E.M. Ceesay and Sgt. Basiru Camara were removed from the cell and I ordered for them to be shot. We later went to state house and briefed Jammeh about the killings and arrests and he asked us to go back and finish the job. We proceeded to Yundum where we met Baboucarr Jatta and discussed with him in the ante-room and waited for the detainees to be brought out."
He confirmed to the Commission that the detainees were tied, taken into the bush, lined up and shot to death, adding that among them were Lt. Buba Jammeh, Abdoulie Bah, Bakary Jammeh, Cadet Sillah and Gibril Sai.
Singhateh denied shooting at detainees, saying that order was given to the junior soldiers. He said the bodies were buried in Yundum Barracks and after that operation, they gave false information to the public.
Read Other Articles In Article (Archive)