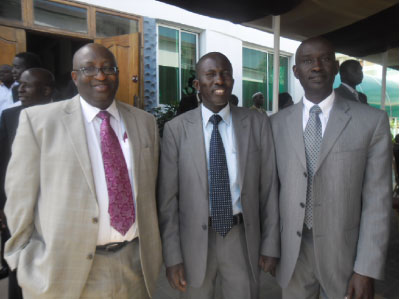 The Central Banks of The Gambia, Ghana, Liberia, Nigeria and Sierra Leone have gone a notch higher in tackling the problem of poor communication and report writing among public officials in these apex banks of English-speaking West Africa.
The Governor of the Central Bank of The Gambia has emphasised the need for a concerted effort at tackling poor communication of policy measures and actions of government, saying it impedes the achievement of desired goals.
Speaking on Monday to central bank officials from the sub-region currently taking part in a ten-day (16 – 24 April) regional course on Specialised Report Writing Skills and Presentation Techniques organised by the West African Institute for Financial and Economic Management (WAIFEM) at the Paradise Suites Hotel in Kololi, Governor Amadou Colley said: "From time to time, fundamental and far-reaching policy measures are instituted by national authorities, aimed at improving the performance of specific sectors and the economy as a whole.
"However, poor communication of policy measures and actions of governments and regulatory agencies often result in misunderstanding, thus impeding the achievement of desired goals. For these and other reasons, managers of the national economy are expected to possess effective communication skills."
He added: "I hasten to add that whilst most managers may have the quantitative skills for policy formulation and analysis, that in itself is not a sufficient tool in modern economic management.
"This is because data gathered and analysed but not effectively communicated and utilised for decision-making are worthless.Therefore, it is equally important for managers to sharpen their communication skills to enable them pass information convincingly to the appropriate level of decision-making."
Successful report writing requires professionalism, in-depth knowledge of the subject discussed, concentration and exceptional writing skills, Hon. Colley stated, adding that often, reports are written to inform, make proposals or recommendations for change, analyse and solve problems, present the findings of an investigation or project, and record progress.
In report writing, one must consider clarity, organization, content and format, and take into consideration the in-house style of writing a report.
A well written but poorly presented report might send the wrong signal to the audience, the CBG governor noted, saying effective presentation techniques therefore entail the use of visual aids, short presentation time, fewer bullet points on each slide, and making one's presentation interesting by punctuating it with interesting but relevant stories.
The importance of effective communication in today's economic and business milieu, and the unprecedented changes and transformation in communication, have compelled WAIFEM to add this course to its menu of programmes since 2002, The CBG Governor said.
Effective communication does not only enable individuals, corporate bodies and communities to express their identity but it is also the indispensable means for any meaningful collaboration.
Most business decisions involve the cooperation and interaction of several individuals or bodies to realize common goals.
The realization of these common goals would be enhanced through effective communication of ideas and thoughts.
Lines of communication must therefore be maintained to facilitate these joint efforts. Without effective communication and the team effort it engenders, it would be difficult to execute important projects successfully and within agreed timeframes, Hon, Colley remarked.
In his remarks on the occasion, WAIFEM's Director-General Prof Akpan H. Ekpo said that today's modern business organizations require constant and large amount of internal and external communication.
"Therefore, those vested with the responsibility of these roles must master the communication process to enhance their job effectiveness," he said, adding that the main objective of the course is to empower the participants with the capacity to use communication as a powerful tool for job effectiveness.
Specifically, the focus of the course includes developing report writers' appreciation of the English language and enhancing their competences to structure, write and present more effective economic, financial and other reports, Prof Ekpo said.
In this vein the broad themes to be covered include communication process, grammar in writing, style in writing, the Five Cs of good communication, guidelines/ formats for preparing financial and economic reports, legal issues in report writing, computer applications in report writing, report writing practical, and techniques and skills of report presentation.
Read Other Articles In Article (Archive)