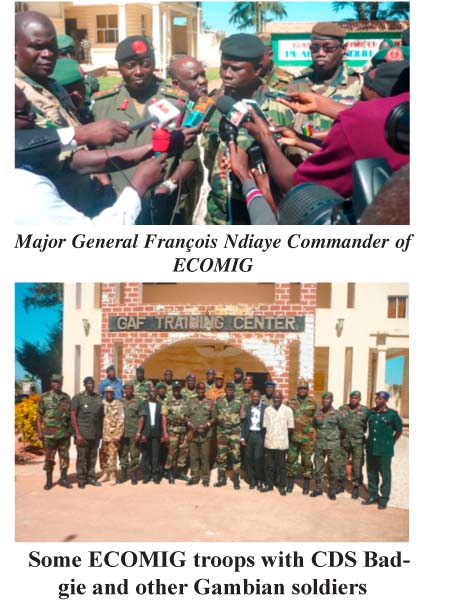 Major General François Ndiaye, Commander of the ECOWAS Mission to The Gambia, called ECOMIG, has said their stay in The Gambia depends on the security situation in the country, adding that they will leave when the new head of state decides that the security situation in the country is safe.

The commander of ECOMIG, the Economic Community of West African States Military Intervention in The Gambia, pointed out that they are actually not an intervention force, not a peace-keeping or a peace enforcement mission, but are just a mission out to provide maximum security and safety in the country.
He said their mandate is to ensure the Gambian population and political leaders are safe, but most importantly to ensure and create all conditions necessary for the effective exercise of power of President Adama Barrow.
"Our stay will depend on the security situation of The Gambia, but the new head of state will decide on that," he said, adding that they are in The Gambia for peace.
He thanked the Gambia Armed Forces and Gambian population for their warm welcome, saying they have been received as brothers and sisters by the entire Gambian population, and have not had any problem since they arrived.
He went on to say that they are working together with the Chief of Defence Staff to implement their mandate, adding that they will also work and interact with all stakeholders, including Gambian security and defence forces in ensuring the process is not derailed, as the ECOWAS mission is in the country to work peacefully with all forces in the country.
He further thanked CDS Ousman Badgie and the Gambia Armed Forces for maintaining that they would not fight, saying if they had agreed to fight the situation would have been different now.
"Gambian solders have been republicans and patriotic, which made our work easy," he said, adding: "We are here to execute our mandate and return."
Their mandate was given by the ECOWAS leadership with the mission planned and decided at ECOWAS Headquarters in Abuja, and Senegal selected as the lead nation.
Read Other Articles In Article (Archive)