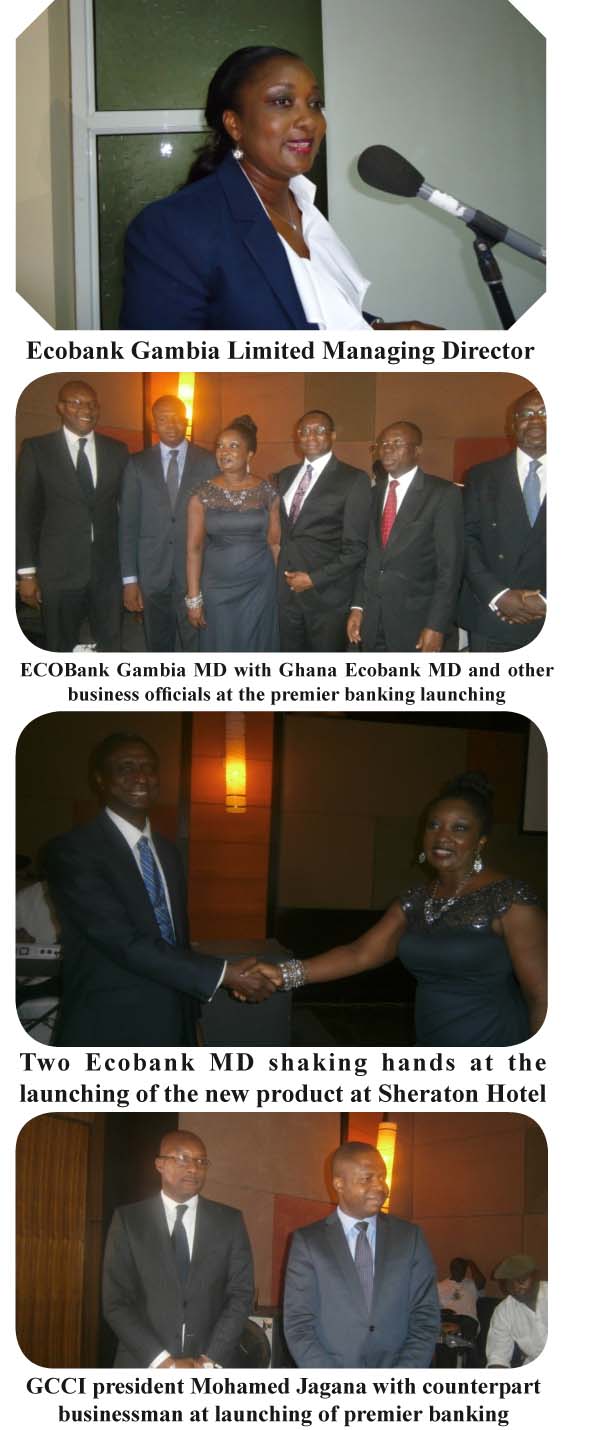 Ecobank Gambia Limited Friday launched its new product in the market industry called "Premier Banking" and instant debit card, at a ceremony held at Sheraton Hotel in Brufut.
Management and staff of Ecobank, Ecobank Ghana Managing Director, customers, Government officials, private sector representatives, as well as other important personalities attended the launching of this new product.
Speaking at the launching, the Managing Director Ecobank Gambia Limited, Madam Josephine Anan-Ankomah, said: "Our Premier Banking product is one of Ecobank responses to the varied banking demands of this elite customer segment."
"This latest addition to our product offering seeks to provide tailored deposit, cash management and credit products and services, customized to individual circumstances, needs and wealth goals," she added.
They intended to offer these services in a dedicated and comfortable banking environment, she continued.
The Ecobank MD said working with a cohesive team of relationship managers, they are poised to assist customers meet a broad range of financial needs, including investment advisory services tailored to individual wealth plans, credit products and e-banking, as well as electronic card solutions.
"We also have in place attractive customer loyalty programmes with an exclusive range of benefits," she further stated.
In launching Premier Banking, they aim to set the platinum standards in terms of customer service in The Gambia, she went on.
According to her, Ecobank's Premier Banking clients would have access to a dedicated private banker, who would work with their team of specialists, not only in The Gambia, but also across the 36 countries where they have a presence, to ensure that they meet and strive to exceed all expectations.
"We look forward to all of you becoming part of Ecobank's elite Premier Banking family," she said.
Also speaking at the launching ceremony was Samuel Ashitey Adjei, MD Ecobank Ghana, who expressed appreciation and delight to join the Ecobank Gambia Limited team to launch the Premier Banking product in The Gambia.
He said at Ecobank, they believe that building an intimate relationship with their customers was key in enabling them manage, build and protect their wealth.
At the heart of this new initiative, which they believe would redefine personal banking in The Gambia, was a team of dedicated relationship managers to look after their Premier Banking customers' very individual needs and provide tailored financial advice.
"The Premier Banking Account is one designed specifically for today's busy lifestyle; yet with same attention to detail that you would expect from a Swiss watch, a German vehicle or an Italian suit," he said.
According to the Ecobank Ghana MD, Premier Banking customers would be able to access their account 24/7 online through their worldwide network of ATMs and post terminals or in their exclusive Premier Banking lounges.
Premier Banking clients would also receive a platinum debit card and enjoy a range of privilege benefits, such as discounts from their partners and preferential interest rates with Ecobank, he further stated.
He encouraged the customers to experience for themselves the difference that Premier Banking by Ecobank could afford.
Alhagie Saihou Denton, Director of Finance and Accounting at GRA, thanked the Managing Director of Ecobank and his team, adding that the event marked another significant milestone in the history of banking in The Gambia with the launching of the Premier Banking product in the market.
He said Premier Banking by Ecobank is about redefining services, redefining products and redefining wealth.
According to the GRA Director of Finance, in launching this unique service, Ecobank essentially is providing an aspirational lifestyle product to which discerning customers would immediately relate.
"It is also re-assuring that Africa is taking up the lead by capitalizing on the use of technology making our dreams come true by rolling our additional products that strategically address the needs of its clients," Mr Denton said.
Today Ecobank has gone ahead of its competitors, and was able to provide its customers with an instantly visa debit card locally, he further stated.
He urged all to use the Ecobank Premier Banking product in order for them to enjoy these unique products across the continent.
Mr Denton also stated that Ecobank's strengths, apart from being a partner contributing the developments efforts of the government, is that Ecobank is once again raising the bar in responding to the needs of its customers.
Read Other Articles In Article (Archive)