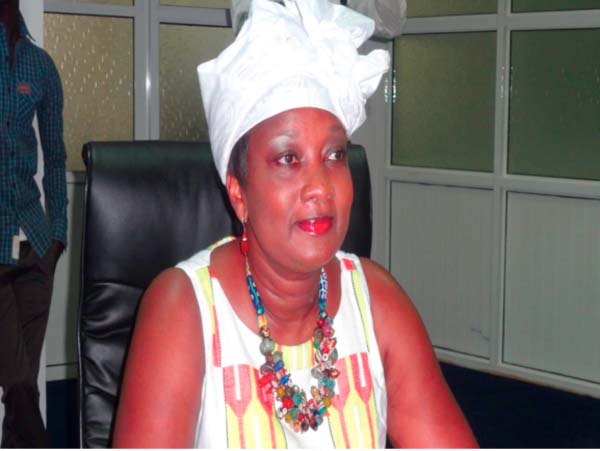 Ecobank, a leading Pan-African Bank in The Gambia, on Saturday launched its newest products called Mobile App Banking and Xpress Account, to provide simple and fast banking transactions to their customers.

The product launch was attended by Ecobank customers and partners, at a ceremony held at the Kairaba Beach Hotel in Senegambia.
Ecobank's digital platform enables its customers to conduct simple and fast banking services, as millions of people in Africa still do not have the most basic financial services that they need to rely on every day.
These new products need No Bank Account; No safe way to save money; No safe way to make payments.
The Ecobank Group is leveraging on the power of digital technology to reach out to their customers, and their aim is to reach 100 million customers by 2020.
Speaking at the launching, Minister of Finance and Economic Affairs, Amadou Sanneh, expressed delight to join the celebration for the successes registered by Ecobank over the years, adding that the launching marks another milestone in the bank's history.
He added that over the years Ecobank has made a giant strive to making banking much easier and accessible, adding that the Ecobank Mobile App is bringing banking closer to the fingertips of their customers.
According to him, the launching is part of the government's support to promote ICT in The Gambia, noting that Ecobank has been innovated in producing the Mobile App to reach their consumers "anywhere".
"Most of the informal sectors are usually afraid to enter a banking hall because they feel lost and completely out of their comfort zone.
Ecobank Gambia has made it possible for a person living as far as Koina to have access to banking to his/her doorsteps," he said.
The Finance minister also said that under the leadership of President Barrow, the government would continue to create the enabling environment where businesses would continue to expand, adding that this establishes a partnership between banking and the telecommunications industry.
Bernard Mendy, Chairman of Ecobank Board of Directors, in his remarks on the occasion, said Ecobank's digital platforms enable simple and fast banking, and their digital platforms are the gateway to transformation for businesses, merchants and individuals across Africa.
This is the first unified App delivered by any institution for use in 33 countries, noting that Ecobank Digital offers transformative solutions and is a game-changer.
"Digital erases inefficiencies, reduces time and unlocks productivity.
With our footprint across 33 African countries, Ecobank Digital can help you move money across borders, travel and be unburdened by old-fashioned bureaucracy," he said.
Chairman Mendy revealed that Ecobank is removing barriers to create borderless opportunities, saying: "Millions of people in Africa still do not have even the most basic financial services that you and I rely on every day. No bank account; No safe way to save money; No safe way to make payments."
He pointed out that Ecobank is leveraging on the power of digital technology to reach out to these customers. "Our aim is to reach 100 million customers by 2020," he added.
Josephine Anan Ankomah, Ecobank Managing Director, in her remarks, said the power of Ecobank's Digital array is about convenience, as they are making banking simpler and faster than ever before.
She added their range of digital products include Ecobank OMNI, which is an internet banking platform for Corporates; Ecobank RIB, an internet banking platform for Individuals; VISA Debit Cards as well as Ecobank Mobile App and Ecobank Xpress account "With our wide array of digital products, Ecobank customers can make payments and receive funds within Ecobank Gambia, in other banks in The Gambia as well as across our affiliates in the 33 African countries that Ecobank operates in with just a few clicks."
According to the MD, their goal is to put financial services at their customer's fingertips, and ensure that banking is more of a lifestyle choice than an inconvenience, noting that by leveraging the power of digital technology, Ecobank is freeing customers up to live a simple life.
"The rising mobile adoption gives us a glimpse of new possibilities and opportunities to better serve our customers across the nation, and to ultimately deepen financial inclusion. We recognize this and are committed to partnering with QCELL, AFRICELL, COMIUM, GAMCEL GAMSWITCH and PURA to put the power of banking at your fingertips."
Amadou Colley, Governor of Central Bank of The Gambia, said at the function that launching the new Mobile App would help to renew optimism about the country's business environment and economic growth prospects, as well as starts the journey together in restoring macroeconomic stability.
He said The Gambia's financial industry has experienced unprecedented change over the past decade, adding that the change has helped deepen financial intermediation, but access to and use of formal financial services is still low.
"A significant proportion (about 80%) of the Gambian population having no access to financial services, and conventional banking in the form of retail branches and Automated Teller Machines (ATMs) is too expensive to be cost effective in many areas; mobile money offers a game changer for financial inclusion," he said.
According to him, the Central Bank granted approval for Ecobank to proceed because the App would revolutionize the financial industry in an "unprecedented way", adding that the CBG is satisfied that the use of mobile phones will not undermine safety in the transfer and receipt of money.
Read Other Articles In Article (Archive)