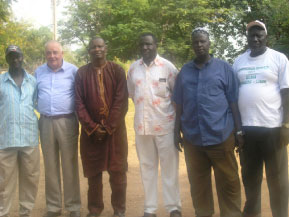 Zakaria L. A. Kanyeka, PhD Plant breeder and regional training coordinator for East and Southern Africa  under the International Rice Research Institution (IRRI), and David Shires, IRRI consultant on programmes and projects, are in the country for a four-day working visit.
Speaking at the Sapu Rice field, the regional coordinator said the aim of their visit to The Gambia is for an inception meeting where the IRRI will convey a meeting to which various countries will be invited to participate in the training programme of JICA, a Japanese international cooperation.
He said JICA president has negotiated with the director general of the IRRI on the implementation of such a programme.
He said the aim of the programme is to increase the yield production on the participating countries, saying the programme involves 13 countries in the training including The Gambia.
He said the project started last year with Eastern countries such as Tanzania, Uganda, Mozambique, Kenya, Rwanda, and Burundi.
For this year's training, five countries will be participating in it, namely The Gambia, Ghana, Nigeria, Ethiopia and Sierra Leone.
Their visit to The Gambia, he said, is to sensitize the authority on government extension services, to seek the commitment of the government on how they are going to use those  be trained in future production in their countries.
He also highlighted the nature of the training programme, saying it has three components each one last for eighteen weeks.  The courses, among others, are junior researcher ice production course, and research technician course which involves NARI officials and participants from research sectors.
He said five participants below 36 years of age of both genders from each country will be participating during the training, under a criteria selected by JISCA and IRRI.
The regional coordinator said further that he was delighted for what they have seen in Sapu Rice field, which is an eye catching production of rice.
Also speaking at this visiting side in Sapu Rice Field, the director of Research at the National Agricultural Research Institutes (NARI), Lamin Jobe, expressed delight in receiving the IRRI delegate based in Philippine.
Their visit to The Gambia, he added, is a very much welcome by the Government of The Gambia.
The visit is all about the Coalition for African Rice Development (CARD Initiatives. He said the objective of the CARD is to attain double production of rice in all the CARD 13 member countries.
To attain that people's capacity need to be built, especially extension workers, farmers and researchers.
This is why JICA and IRRI plan to come up with this training to build the capacity of the member countries.
"We very much appreciate this initiative," he said, adding that the IRRI and NARI relationship started many years ago.
He highlighted some benefits The Gambia has gained from IRRI, while urging them to continue in helping member countries build their capacity.   
Other speakers on the occasion included Favides Shire, IRRI Consultant, the farm manager Sapu Rice field and other staff.
Read Other Articles In Article (Archive)