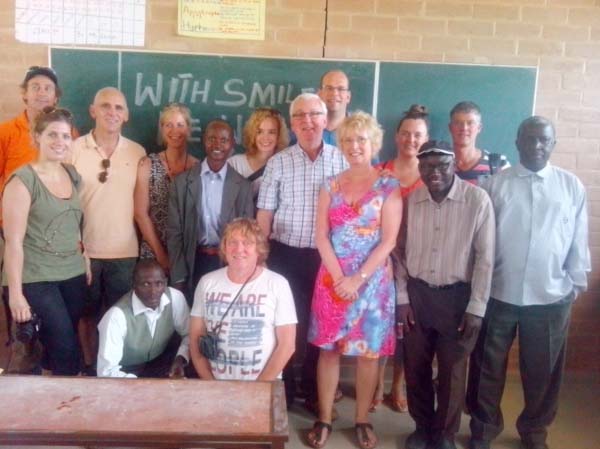 A three classroom block with an office was Wednesday handed over to the Jambur Lower Basic Cycle in Kombo South District of West Coast Region.
The inauguration of the building, built by PRO8/Foundation Bugunala - a Dutch charity organisation, was officiated by the cluster monitor of the Baniaka Cluster.
Geert Gerritsen, chairman of the charity, said they are "very committed" to uplifting the status of Gambian students, adding that the organisation would continue to support the Jambur school for a conducive learning environment.
"Our wish is to build a solid foundation for the community of Jambur and the country as a whole," he said.
He added that supporting the grassroots education would in no doubt promote effective learning as well as promote the welfare of students who are in need of basic learning materials.
He told the students: "Take your classes more seriously and inculcate good manners at all times, for you are the ones who would one day serve The Gambia in different capacities."
Sainey Ndong, cluster monitor for Baniaka Cluster, urged the administration, students, school management committee, and the community to properly take care of the new structure.
Deputising for the director of the Regional Education Directorate, region 2, Mr Ndong said the Ministry of Basic Education is "very pleased" with the handing over of the new classrooms and office to Jambur LBS.
He said the building would mitigate the learning and administration difficulties at the school.
Ousman K. Kebbeh, principal of the school, said the relationship between the school and the Dutch organisation has been very cordial.
He said the organisation has been supporting the school with "a lot of educational items" and agricultural inputs for the school garden as well as building and renovation of classrooms.
Mr Kebbeh said Dutch organisation has also been supporting the school in the areas of health and environment "which are all paramount in human life''.
He said the charity also supported the college education of two teachers of the school who are undergoing a Primary Teachers Certificate (PTC) course at the Gambia College.
However, Mr Kebbeh said the school stills needs support of classrooms as the present ones are not adequate for the growing number of students.
Alhaji Haruna Bojang, the village administrator of Jambur, said the inauguration of the new classroom block is another "historic event".
He said the school, built in 1963, started with just an open place at the village square but thanks to the support and commitment of the villagers and partners, it has been transformed to a modern one.
Dembo Ceesay, chairman of the School Management Committee, and Mariama Sabally, head girl of the school, both lauded the donors for supporting the provision of quality education for pupil of the school and the community. They also called for more support to the school.
Read Other Articles In Article (Archive)