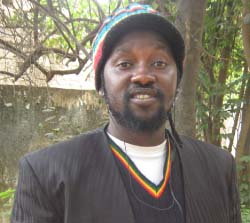 Gambia's international reggae artiste Dr Olugander is currently on European tour in Sweden, Austria and Italy.
Dr Olugander told Entertainment and Lifestyle in an email interview that he had a well-attended concert in Norrkoping, Sweden, on 30 May 2013, in Vienna, Austria, on 8 June and will be having another in Milano, Italy, on 14 and 15 July.
"I appeared in an international CD compilation by Cologne Reggae Connection in a riddim line up called 'Rebel Riddim' and one called Vibez Riddim, which feature different artistes. We are working tirelessly every second, representing The Gambia as my past album says: 'Little Gambia'," Gander explained.
On his wall after the show in Sweden, Olugander posted: "Wow! I can't believe my eyes. I am really grateful to the highest God, for giving us a successful show in Norrkoping, Sweden.The show was nice and the people are lovely and decent. Watch out for the next show in Milano."
He continued: "Blessed love to all ma people in Milan and the whole of Italy and Vienna; it was nice to have some good vibes with you guys, the music, the love and all the wonderful fun we had. And big thanks to all my artistes, you all did great job - well done...respect every time, and special thanks to ma general Fabs Colley, big respect to ma big Bredda Taff Original for the link. Big up to all the Flag flow high Senegambia movement to the world."
Olugander also said his European management is working on other venues to hold a concert in countries like Norway, Finland, Holland, Denmark and Switzerland.
With his new promotional singles called "Million times" hitting the world music market like an erupting volcano, Gander is busy pushing his music and working on projects of shows, jingles, line-ups and so on.
Read Other Articles In Article (Archive)