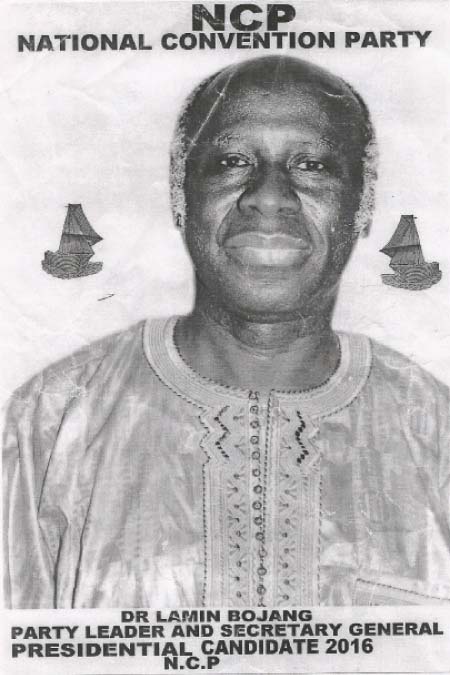 Party militants of the National Convention Party (NCP) at the weekend named Dr Lamin Bojang as the new party leader, at a press briefing held at its headquarters in Brikama, West Coast Region.
The ceremony was attended by NCP party militants and representatives of other opposition political parties, who witnessed the unveiling of Dr Bojang as the party leader and flag-bearer of the NCP party.
Before the commencement of the briefing a minute's silence was observed for the late Sheriff Mustapha Dibba, the founding father and former NCP party leader.
In his introductory remarks, Jereba J.B.M.M. Jammeh, NCP deputy party leader, gave a brief history of the party.
He said the party was founded in 1975 under the then leadership of Sheriff Mustapha Dibba.
He also said the NCP was among the political parties that were banned after the military takeover in 1994.
"After the ban, we were advised by our party leadership to join the UDP in order to contribute to the development of the country until the ban was lifted."
He added: "This year, we have decided to revive the party to show the nation that the NCP is still in existence, and that we still remain a credible opposition party which is non-violent.
"We have also decided through our meetings to select our leaders, and Dr Lamin Bolonding Bojang was unanimously selected as the leader of the party, and me as the deputy party leader."
In his remarks, the new NCP leader, Dr Bojang, said: "The NCP as a party has been known to be peaceful and non-violent, and I and my colleagues intend to continue operating in that way. We have come out with our manifesto and programme that we will share with the people; the NCP is revived and it is as relevant to today as ever."
Dr Bojang also touched on the policy of his party, saying he is out to promote peace and harmony.
His party's plan is to contest and "win all the seats" in the forthcoming elections, he said, adding: "We will be working towards this because it is our target, but as to whether we will realize it or not that is another question."
Asked to comment on the current political scene, ranging from the plight of the UDP leader and supporters to the possible unification of the opposition, Dr Bojang said he could not comment on the case of the UDP since it is already in court, but as a person and party they sympathise with them. "I think we would leave that for the court to decide," he said.
On the issue of an opposition united front, Dr Bojang said the NCP is willing to take part in such a move, recalling that this has long been his belief since the First Republic.
"I singlehandedly spearheaded a campaign to unite the opposition around one flagbearer as far back as 1992, and even contacted other parties about it.
"If the opposition really wants to unseat President Jammeh at polls then they must form a coalition," he said, adding: "It is, however, not going to be an easy thing."
On why it is not going to be easy to form a coalition, Dr Bojang said: "I personally have been writing to different political parties to come together since 1992, but this could not materialize simply because there is misunderstanding. I think if people have the interest of the country at heart we should have realised this goal by now."
Read Other Articles In Article (Archive)