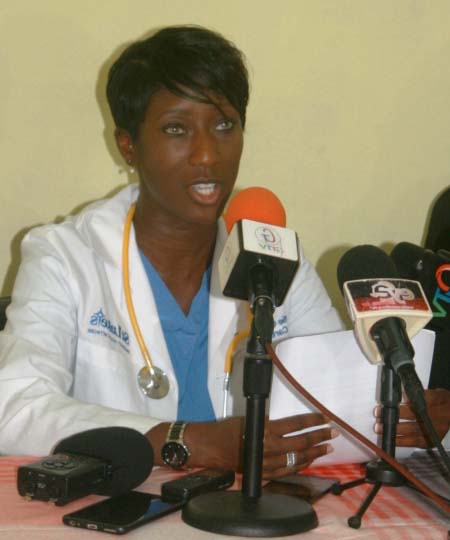 Dr. Naffie Ceesay has defended the integrity of her late brother- Ousman Koro Ceesay, former finance minister of the Armed Forces Provincial Ruling Council (AFPRC), saying she will not sit behind watching an unremorseful psychopath to malign the character of their beloved one.

Koro Ceesay was killed in 1995 under mysterious circumstances at then local government minister Yankuba Touray's house in Kololi. Several witnesses at the Truth, Reconciliation and Reparations Commission (TRRC) have testified under oath that Edward Singhateh and others including Yankuba Touray allegedly killed the former Finance Minister.
However, Singhatey in his TRRC testimony this week, distanced himself from this gruesome murder, telling the commission that he went home after seeing off former president Yahya Jammeh at the airport.
At a press conference convened by the family at Fajikunda, Dr Ceesay emphasized in clear terms that someone who does not have a moral complex to insinuate that Koro was probably involved in dealing with rebels or been killed by rebels can only be believed by insane people.
"This is because he was trying to plant a seed of doubt about his opponent and underestimate the intelligence of the Gambia people. With time people will see the truth and people know the truth because that is not the type of person my brother was," Dr Ceesay stated.
She stated clearly that Koro was a 'patriot and visionary' who wanted to transform and improve his country and her people.
"His legacy is about service, uplifting and making a difference and should not be confused with cheap attempts to smear his reputation."
Dr Ceesay was emphatic about forgiveness as lots of forgiveness was heard during this hearing.
"Forgiveness is not for the villain or perpetrator; it is the victim's way of taking back their power and strength. It is not a line you cross after hearing a superficial or pathetic apology. It is a path you take. And our family took that path a long time ago independent of our brother's killers."
The US-based Gambian doctor noted that in Koro's memory, the family has founded the Ousman Koro-Ceesay Foundation, which she added, has been providing free school supplies, medical services, screening and community education to countless citizens for the past four years.
She noted that the family didn't go into this process having expectation to avoid the tendency of disappointment, indicating that for the past 23 years they wondered what they would do or say to Koro's killers.
"What we feel for them is sadness" she added.
She maintained that true power is not using guns and terrorizing innocent citizens, but is to hold back from using power when you can use it and instead choosing to use mercy.
"And Koro's life was not ours to forgive; his killers would need to ask the Almighty for that."
Read Other Articles In Article (Archive)