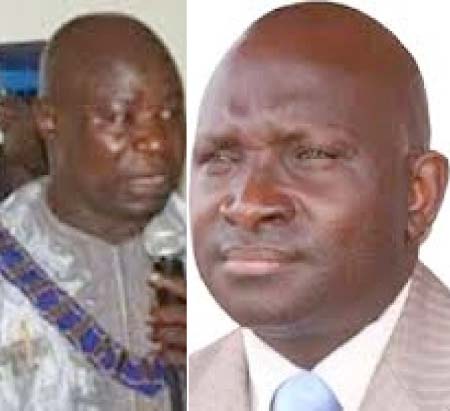 A woman who said security agents wrongly arrested and detained her at the notorious Mile 2 State Central Prison in Gambia's capital, Banjul holds former Mayor of Kanifing Municipal Council Yankuba Colley and one-time interior minister Ousman Sonko responsible for their miseries.

Fatou Camara told the TRRC in her testimony on Thursday that she was never part of the April 14 2016 electoral reform protest but was arrested alongside other United Democratic Party (UDP) members and tortured by the defunct National Intelligence Agency (NIA) officers.
She said it was former Kanifing Mayor Yankuba Colley and former Interior minister Ousman Sonko who led their detention on the orders of former President Yahya Jammeh.
Explaining how she got to Mile 2 Central Prison, Mrs Camara said on the day she was arrested, she was looking for a particular grass and was directed to a Malian in Kanifing, where she was going to. She said when she reached a junction on her way to Kanifing, she saw many people and the majority of them where from the UDP party.
"After I saw a man called Falang Sonko, head of the UDP youth wing and Solo Sandeng who had a big position at UDP, I asked Falang what is happening but he said nothing, I told him then why were they gathered there but he said he will tell me later and I proceeded to Solo Sandeng."
She said when she asked Mr Sandeng, he asked her to go to the wedding ceremony that she was going to because nothing was happening. "I saw a police man who was wearing a white uniform, arguing with Solo and I later saw the paramilitaries. Those with baton were chasing people and kicking them and picking people and throwing them in their vehicle."
Mrs Camara said she later heard a lady telling the paramilitaries officers that 'the oppositions are sitting there and that was when two of the officers came and slapped her and arrested her. "They threw me in the truck where I found about 40. They took us to the PIU headquarters and made us line under the sun and later in a room."
According to her, the behaviour of the security heads was like they were going to kill them because they were very angry and insulting them. "One man told Yankuba Colley that these people are from your region, now discuss and let them go, but Yankuba said he had to inform Ousman Sonko and anything he decided would be fine."
She further explained that she also saw Yankuba Sonko and Colley who came and told them that the president told them that they wanted to stage a coup and they should all be taken to Mile 2. She said they were later taken to Mile 2 in shackles and woods.
"I was taken into a room where I found other women. During that period, I was fasting and it was only water I was able to use to break my fast. Later, as I was praying, someone knocked the door and asked for me and Fatoumatta Jawara. Banna, a prison officer was there and asked them what are you doing to these ladies and they told her that what they will did to us, we will not die but we will not be able to benefit ourselves after. They said we deserve such a treatment because we were acting like men."
She explained that they later took two of them to NIA office, where she heard people screaming. She said she was later taken into a room with Lang Marong, Falang Sonko and Fatoumatta Jawara.
"We were interrogated and I told them that I was not part of the protest, which I was going to a wedding but he said I was lying and insulted us and told us to get up from the chairs and sit on the ground. One man came to the door and called Fatou Camara and I responded yes, he said come," she said.
She said a bag was put over her head and she was transferred into another room where she was asked to tell them who sent them out but she told them that she was going for a wedding ceremony but the man called one Haruna and asked him to bring sticks. "He told me to open my mouth and I refused. He told the men to hold my hands and legs. They beat me on a bed and poured cold water on me."
She said when she gained consciousness, she saw herself in grasses and started saying Alhamdulillah and heard the NIA officers saying she didn't die. She said they came and beat her again but a man stopped them and they also argued.
"The man later picked and took me into a room and I demanded for water. When the water was brought, someone just kicked me and the container fall. I was beaten until I fainted and when I regained consciousness again, I was taken before another panel for interrogation."
She pointed that Tamba Masira was there insulting them and saying they should give him vinegar and he will put it in their mouths.
She said they were later taken to the hospital and she urinated blood for 15 days; adding that Doctor Sanyang wanted to inject her but she rejected. She said Sanyang told her that she might die if she doesn't take the injection. "I told him if I die, let them take me back to my family."
She said a nurse called Fatou Darboe who was also treating them later went into exile in Senegal because she was wanted due to the service she was rendering to them.
She said one Sergeant Jeng wanted to help them in treatment but Nogoye told him that they cannot trust him anymore because of what he did to them. She said they spent about one month at the NIA.
She indicated that it was when Ousainou Darboe and others were enquiring about their whereabouts when they were relocated to Mile 2. "We were taken to court and charged with unlawful demonstration. One day at Mile 2, I saw truck with paramilitaries, who took us to McCarthy prison. We were put in one room and the condition was very bad."
Witness explained that the toilet facilities were in the same room where they were staying; adding that there were lots of different flies, which they have no choice but to sleep with them.
Read Other Articles In Article (Archive)