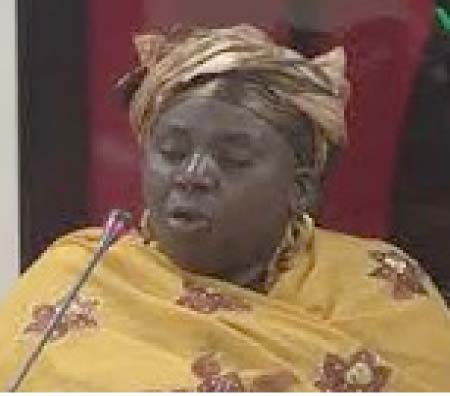 Jukuna Suso, a victim of human right violations in 1994, 1996 and 2016 and a party militant of the United Democratic Party (UDP) yesterday told the truth-seeking commission that it was former prison director David Colley who led her, the UDP party leader Ousainou Darboe and about 30 other people who were demonstrating for the death of Solo Sandeng in 2016 into Mile 2.

Explaining the incident, Mrs Suso said she went to Pipeline and Solo Sandeng died the following day, adding that her father called and informed her and she went to Ousainou Darboe's house and found them at the sitting room. She said that was the time Darboe wanted to go out for demonstration and he told them not to go with weapons.
On whether she knew how Solo died, she testified that she heard that Solo and others went out to demonstrate and he was arrested and taken to NIA where he died.
On that demonstration, the witness indicated that Darboe went with Lamin Dibba, Modou Sanneh, Fakebba and many other people.
"After they left us at the compound and went, someone told me that they arrested all my party members. I decided not to stay at home and as I was standing at the gate with Mai, the paramilitaries came and told me to board a truck. I was not able to and they hold and threw me inside with two men. They forced me to show them Solo's compound but I decided not to because I was already arrested."
Mrs Suso told the Commission that they were later taken to the PIU headquarters, where she saw all the supporters and the leaders of the UDP bleeding.
"I spent the day there almost naked and my blood pressure raised to 200. They went to Jammeh Foundation and brought a doctor who told me to be careful before I will be paralyzed."
She said the NIA officers surrounded the house they were in and all the ventilations were blocked. She added that she was asked which party she was and who did she voted for; but she told them that she supports UDP and she votes for Darboe.
She said the following day when the PIU officers went to see the former president Yahya Jammeh at the airport, they took them to Mile 2 on the orders of David Colley, the then mile 2 prison director.
"When we reached the prison on a Sunday, David took Darboe and the other men to confinement. I and Fanta Darboe were taken to the female remand wing. The people that we found there helped us and gave us their dresses to wear."
She added that they were there with a mad and pregnant women; saying she helped the pregnant woman who wanted to be delivered of her baby and called the people to take her to the hospital.
"They took her, she delivered and the baby was taken to SOS. She was always crying but I told her to bear the pain and I gave her courage that one day she will get out of the place."
She explained that there was a time when their room had electrical spark and all the prison officers ran and left them there which led to some of them fainting. "I stayed in the prison for three months before being convicted."
Testifying on what happened to Darboe during the incident after the 1994 coup, she explained that soldiers with guns came to Darboe's house searching for him and she told them he was not there.
"They requested for a number and I gave them the home line. They told me that when Darboe came I should tell him to answer to Statehouse or anything can happen to him."
She that Jalika, a cousin to Darboe went to Kanifing and told him. Darboe later came to the house with Sidia Jatta and she informed him but he said he would not go to Statehouse.
"Ousainou was arrested when he left his house to Bakau at Mr. Boro's office and taken to Fajara Barracks. It was after three weeks I saw Darboe at Pipeline after his release. His situation saddened me because his weight reduced and his body and cloths were also dirty."
She further recalled that during the first elections, there was a problem at the bridge and lot of UDP militants sustained injuries and seriously bleeding. "Some people died as a result of that."
Read Other Articles In Article (Archive)