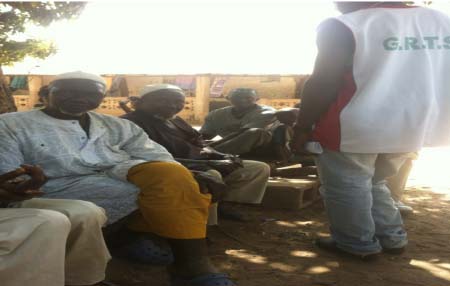 The Department of Parks and Wildlife Management (DPWM) through strategic support from sustainable land management project (SLM), a project being implemented under the Ministry of Agriculture at the weekend, concluded a weeklong of consultative meetings with local farmers across the country as part of government efforts at meeting the Aichi target of putting the 10% of the country's landscape under protected area management.
At various meetings held at Balangharr Betenti, Kass Fula, Jarumeh Kuta, Niani Sukuta, Jarra Barrow Kunda and Kossemar Tenda in CRR, URR and LRR, community wildlife protected areas were identified.
Abdoulie Sawo, ecotourism officer, on behalf of director of Department of Parks and Wildlife Management, said wildlife conservation and protected areas management could only be sustainable if local communities are involved in all the spheres of conservation efforts and promote benefit-sharing policy.
"The sustainable land management project (SLM) under Agriculture during its implementation, realized that sustainable land management is beyond upland and lowland management," he said.
He added that wildlife conservation was crucial if long-term productivity of lands was to be maintained, and for conservation of the natural resources to be effective and efficient, local communities had to be an integral part of the whole process.
The SLM Project signed a contract with the DPWM, the national institution responsible for the creation, protection and conservation of wildlife in The Gambia, to facilitate and implement the wildlife component of the project geared towards sustainable land management to enhance food security, he said.
Mr Baboucarr Dumbuya, park warden, said the consultation meeting with selected communities was to discuss with them (Alkalos, VDCs and elders) strategies to come up with tangible and achievable goals that would minimize human wildlife conflict, thus promote food security.
One of the giant steps taken by experts from the DPWM was the identification of potential sites for the establishment of community wildlife protected areas and to erect hippo barriers in communities prone to hippo attacks, he stated.
Dumbuya further revealed that the DPWM was committed to ensure that natural resources are protected and sustainably managed for the future but also recognized that community participation in the crusade was key, thus improving the lives of communities.
"In order to protect these resources, community's livelihood has to be improved through creating opportunities, such as capacity building, village banking, horticultural gardening, bee-keeping and woodlot among others," Dumbuya added.
For his part, Kawsu Jammeh, Environmental Education Officer & PoWPA Focal Point, said consultation for the establishment of community wildlife protected areas was done in parallel with the hippo barriers in Jarra Barrow Kunda, Kossemar Tenda, Kiang Bamako, Kassagne, Kayiumi, Demba Kunda, Badari, Chamen, Sittanunku and Pakau Njogu, which were identified for the establishment of community wildlife protected areas.
He said that since protected areas contribute to ensuring water supply and irrigation, maintaining nutrient flows and regulating flood events in adjacent agricultural lands, they contribute to the diversity of species some of which support agricultural concerns, such as crop protection (e.g. botanical pesticides).
He added that community protected areas help in ensuring sustainable land management while at the same time alleviate poverty.
Mr Jammeh said the constant concerns raised in almost all the communities visited was the mode of operation where communities pointed out several issues relating to the way they had be treated by Forestry Department staff on the ground and as a result, fear losing their lands or be ripped-off the benefits these protected areas would provide.
Samba Sabally, alkalo of Kass Fula, stated that during the last growing season they had to go to other communities in search of land for cultivation to ensure they get food to survive on.
On this basis, he said, these sites were selected to erect barriers to stop the hippos from entering into their rice fields, thus enhance food security.
He described the meeting as successful, for it creates opportunity for local farmers to raise their concerns over the issue, which would go a long way to designing and strategizing means to curb human wildlife conflict for sustainable land utilization for food security. 
Read Other Articles In Article (Archive)