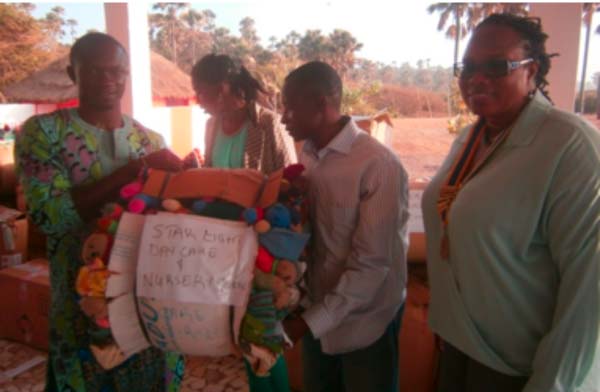 Rotaract Club of Fajara with the support of its parent body, the Rotary Club of Fajara, Thursday donated twenty sewing machines, seventy plastic chairs, forty tables and other educational materials to various institutions and schools in The Gambia.
The beneficiaries included Star Eight Day Care Nursery, SOS Children Village, Lend A Hand Society, Serekunda Lower Basic School, Lulu Nursery School, and other learning institutions.
The presentation ceremony, held at Swiss Tavern in Senegambia, was attended by top members of the parent body (Rotary Club of Fajara) spearheaded by Madam Adam Wadda.
The donation came through the support of Rotary Club of Laytham in the UK and the Gambia Association in Doreset the UK.
Speaking at the presentation, Mrs Karen Mballow, president of Rotaract Club of Fajara, said Rotaract is a service club for both young men and women who are dedicated to community and international services, generating membership worldwide.
Rotaract clubs are self-governing, self-supporting and could be either university or community-based, she said.
Madam Mballow thanked their parent club, the Rotary Club of Fajara, for the trust bestowed on them through their project called "HOPE IS YOU" an initiative that aims at providing aid for the needy.
The project involves the collection, cleaning and preparation of clothes, shoes, dolls and other materials donated by individuals and groups, she said.
"It has made the Rotaract Club proud and is making life easy for our younger generation in changing lives and helping the community in general," she added.
The items donated to the children might not be much, but could change the lives of children in the society, she said, adding that the club is out to put smiles on the faces of vulnerable children at orphanages and schools.
She also thanked the donors for their invaluable support and concern for humanity.
Also speaking at the presentation, the President of Rotary Club of Fajara, Adam Wadda, said they as the sponsor club gave the helping hand to assist in giving out to the various beneficiaries.
She explained briefly about the existence of Rotary Club of Fajara, saying: "It is a humanitarian organization out to assist communities by providing basic essentials in education, health, sanitation, development, and conflict resolution, which are the areas of focus of the Rotary Club of Fajara."
The donation came from the Rotary Club of Laytham in the UK to help different communities, she said.
Read Other Articles In Article (Archive)