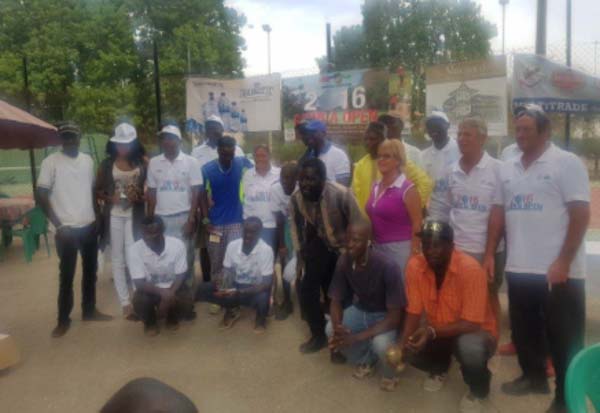 Dodou Kassama, winner of the 2014 Gambia Open and Pro-Am, was on Saturday 17 December 2016 crowned champions of the 2016 Gambia Open, defending his title.

The tournament organised by GGA from 12 to 18 December 2016 was played at the Fajara golf course and Kololi Beach Resort golf course respectively.
As winner of the 2016 Gambia Open, Dodou Kassama was rewarded with a cash prize of D50,000.
Yusupha Tamba and Omar Jadama, who finished the tournament joint second position, received each D17,500.
Ebrima Sarnnel, a Sierra Leonean professional golfer, took fourth place thus received D12,000.
Edrisa Jammeh collected D5,000 after finishing fifth position.
Sixth to tenth positions were each rewarded with a cash prize of D1,000.
In the Amateur's men category 1, Alasan Jallow, took first position. He was followed by Anthony Jatta on second position while Anthony Tabbal occupied third position.
Quintin Hampton came out first position in the amateur's men category 2. Barry Twiss took second while Terry Seager emerged third.
In the ladies category, Esther Walsh emerged first position. Nyahally Samateh took second position while Tracey Horton-Maher finished third.
Esther Walsh was named the overall winner of the amateur category.
Fansu Drammeh emerged as winner of the caddy category. He was followed by Yusupha Jammeh on second position while Pa Modou Sarr took third position.
The men's longest drive was won by Anthony Jatta while that of the ladies was won by Nyahally Samateh.
The nearest to the pin award went to Terry Seager.
Esther Walsh won the best ladies amateur score at both Kololi Beach Club golf course and Fajara golf course.
The best men amateur score at Kololi award was grabbed by Alassan Jallow.
Yusupha Conteh went home with the award for the best men amateur score at Fajara golf course.
The award fort the lowest score at both Fajara and Kololi went to Mark Goddard.
The most birdies prize at Kololi was won by Quintin Hampton.
Speaking on the occasion, the president of the Association Ebrima Jawara, thanked sponsors for their support, saying this was the first time in its 41 years history that the Gambia Open was played over two different golf courses (Fajara golf course and Kololi Beach Resort golf course).
He said the objective of the GGA is to decentralize the sport across the country as well as promote golf tourism.
"With the active participation of Kololi Beach Resort and the continued support of the Gambia Tourism Board we have taken the first tangible steps towards realizing that objective, " he pointed out, saying they hoped the addition of another venue will pose a greater challenge for both amateurs and professionals.
The first vice president of the Gambia National Olympic Committee, Ms Beatrice Allen, gratified the GGA for organizing a successful tournaments as well as promoting golf in the country.
She assured them of her office's continued support.
Read Other Articles In Article (Archive)