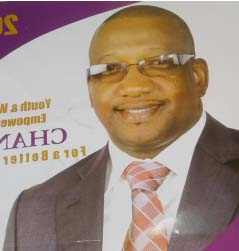 (Issue, Monday, August 22, 2016)
Mamma Kandeh, leader of the newly-formed political party, Gambia Democratic Congress (GDC), on 20 August 2016 told Gambians to do away with tribalism.

He made this statement when addressing a large crowd at a political rally in Bakau.
In a heavy downpour of rain, his supporters waited for him patiently to arrive.
Mr Kandeh told his supporters that tribalism is dangerous, adding that Gambians are members of the same family. "It is not good to discriminate against a tribe," he said, adding that nobody can divide Gambians.
He thanked the people of Bakau for the warm welcome accorded him, and praised the fishermen of Bakau for their hard work as they take care of their families from the little they derive from fishing.
He saluted Dembo By Force, the National President of the United Democratic Party (UDP), whom he said is his uncle.
He said the condition of the roads in Bakau is "poor", and promised to change Bakau and Banjul for the better.
He further said people everywhere talk about change of government. "You cannot force people to love you," the GDC leader said, adding that insulting people is uncalled for.
A leader should be patient and should have good qualities, he said, adding that people perceive that he works for President Jammeh. He refuted that perception, saying he was a member of the APRC, but he has now formed his own party.
He said the presidency which President Jammeh wants is also what he wants, adding that this is why he would "never work" for President Jammeh.
Mr Kandeh declared that he was working for the Gambian people and the people of Jimara, who elected him to represent them in the National Assembly.
He further stated that people who left the APRC and had joined his party "are being threatened". He urged them not be scared, saying it is their right to join any political party. He told his supporters not to fear anyone.
He thanked the APRC chairwoman and chairman of Kunkujang for joining his party. He also thanked one Fatoumata Chorr and Oumie Jaiteh, who were UDP and NRP supporters respectively, for joining his party.
Mr Kandeh stated that the GDC is for all Gambians, adding that everybody is welcomed to join the party.
He further said no one can provoke him, which is why he would not insult anybody. He is a man of peace, he continued, and appealed to his supporters to be peaceful.
"It is not true" that on election day, a camera will be installed to capture voters in the polling booths as they vote, he went on, adding that nobody can fool Gambians, as "they are not fools".
Mr Kandeh also said APRC supporters "are desperate", but they cannot fool anyone.
He advised Gambians not to sell their voter's card, because the cards are their voice.
Aji Kinneh Nyass, said to be the APRC chairwoman of Kunkunjang, announced her defection from the APRC to the GDC.
"Why staying in a party that is falling apart," she said, adding, "you cannot stay in a ruling party whose government is causing hardship to the people".
She said the rate of unemployment is increasing, and people are suffering every day, and feels the pinch of it.
Mrs Nyass said she does not know where the country is heading, added that "change is needed", and urged the youths to vote massively for Mamma Kandeh in the December 1 presidential election.
She believes Mamma Kandeh can save Gambians from the chain of slavery, adding that "nobody can instill fear in Gambians anymore".
Momodou Sowe, said to be the APRC chairman of Kunkujang, also announced his defection from the APRC to the GDC. He too expressed sentiments similar to those of the previous speakers.
Awa Gaye, a resident of Bakau, told the gathering that Gambians are "facing serious hardship".
"The rate of unemployment of the youths is increasing," she stated, and that is why youths are engaging in the 'back-way' journey to Europe, losing their lives in the adventure.
She urged the people to use their voter's card to effect change in the forthcoming presidential elections in December 2016.
"President Jammeh was voted into office by Gambians, and it is the same Gambians who would vote him out," she declared.
Read Other Articles In Article (Archive)