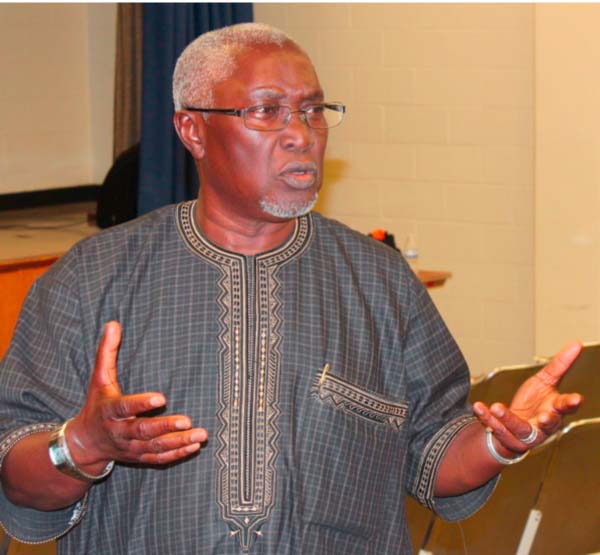 Issued Tuesday 28 March 2017
Omar Jallow alias OJ - PPP leader and Gambia's Agriculture minister, during a political rally held at Latrikunda German organised by the PPP KM Committee, called on party supporters to do away with tribal politics and ensure that national interest supersedes individual party interests.

Addressing supporters at a political rally on Thursday, 24 April 2017, Hon. Jallow described the recent Coalition breakup in the run-up to the National Assembly election as elements of betrayal and selfish attitudes among Coalition members.
"Among reasons for the Coalition breakup in the run-up to the parliamentary elections was because some party leaders, such as the UDP, said he did not want his political party to die.
"For PPP, what we see is national interest. That is why we participated in forming the Coalition and, consequently, defeated Yahya Jammeh in the 1st December 2016 Presidential elections.
"I refused to contest the 2001 and 2006 Presidential Elections because we were not united, and I knew without unity we can't defeat Jammeh, who was supported by people from all tribes. The support to Jammeh was not based on tribal lines.
"The brutalities Jammeh's rule meted out to Gambians were not perpetuated by Jolas alone, but other tribes too. Therefore, if we are to punish, everybody has to be punished and, if we are to forgive, everybody will be forgiven," said the PPP leader.
He said most of the divisions in politics are linked to tribal differences and selfish politics. He spoke against disunity and called on all to look at Gambia's interest first, above individual interests.
"God wants unity and that is why with the help of God we defeated Yahya Jammeh in the December polls after forming a coalition."
He said Ousainou Darboe's UDP has been contesting against Jammeh's APRC government during his 22 years rule, but was unable to defeat him. Adama Barrow came after Gambians looked at Gambia's interest only, and eventually defeated Jammeh within a few months.
"This is a manifestation that Allah/God supports unity; that is why people go to mosques and churches to worship the Lord in groups," he added.
OJ said the element of betrayal came about in the run-up to National Assembly elections, as some of the parties, including UDP, NRP and GDP decided to form a tactical alliance.
"I disagreed with formation of tactical alliance, and requested that we all contest under Independent ticket and remain under Adama Barrow's Coalition Government. Since Ousainou Darboe and colleagues did not agree, we now decided that we all contest under our individual parties.
"Now those who were forming tactical alliance are contesting against each other in various constituencies," he said, adding that "for PPP, what we see is The Gambia."
"If PPP's death is The Gambia's peace, then let PPP die and The Gambia have peace. Let's look at national interest above party interest," he said, adding: "Don't allow any party leader to be better than yourself. We are all equal. Party leaders should be seen as servants of the people. People must not fear their party leaders or feel that their party leaders are better than them."
Read Other Articles In Article (Archive)