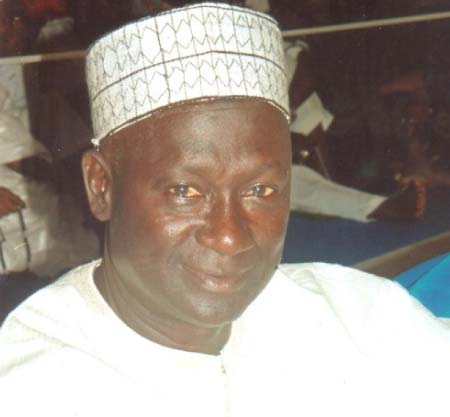 The Gambia's all-time legendary Alhajie Momodou Njie, popularly known as Biri, says he is extremely delighted to have won the Abdou Diouf Foundation Award, describing the prestigious accolade conferred on him as a great achievement.
The former Seville sensational forward, widely regarded by pundits as the most celebrated Gambian footballer of all time, was in Dakar, Senegal, to receive the award given to him by the Diouf Foundation.
Biri bagged this award in recognition of his outstanding services, dedication, promotion and development of sport on the continent and in The Gambia in particular.
The Gambian football legend claimed the top honour at a colourful ceremony held at the Theatre Daniel Sorano in Dakar, Senegal, together with other prominent sport personalities who also served in the development of sport in their respective countries.
Biri, who became the first Gambian footballer to play at the professional level, could not hide his happiness in an interview with Pointsport at his office in Banjul recently.
He said: "I am extremely delighted to have won this award in recognition of the services I rendered in sport in the continent and the globe in general."
The ceremony, Pointsport was informed, was presided over by Habib Thiam, former Prime Minister of Senegal who deputised Abdou Diouf, former President of Senegal, at the Award ceremony.
It would be recalled that Biri received three international awards in Washington DC, USA, on African Liberation Day earlier this year.
Profile
Alhajie Momodou Njie Biri is indeed the greatest footballer The Gambia has ever produced. Biri, the son of Uncle Alhajie Ngooze Njie, was born at Perseverance Street Banjul in 1946.
He attended Crab Island Junior Secondary School where his talents were first discovered in the Inter-School Soccer competitions and was able to bring many awards and honours to his school.
Biri Biri started his football career with Black Star Football Club in the GFA second division, a team for which he played only one match.
Due to his incredible dribbling talents and acute sense of space and fantastic goal-scoring ability, Biri was invited to join the Black Diamonds, the then national champions.
He played for Diamonds until 1963 when he was virtually bought by the White Phantoms where he had only a brief spell before quitting Phantoms outfit a year later.
Biri joined Arrance, a young team filled with young talents, which suited his style of play.
Many would recall the combination between the late Yusu Samba (Pele) and Biri in Arrance in their hay days.
After winning a championship for Arrance in 1965 he was again invited to join the famous Augustinians Football Club, where he stayed for five years. Biri's dynamic leadership in Augustinians' attack and midfield enabled the club to dominate soccer throughout this period.
In 1970, Biri left The Gambia to join Derby County, a first division team in the UK. He then returned to The Gambia in 1970 and joined Wallidan, a team he actually showed a lot of love and admiration for.
In 1972, Biri went to Denmark to play for B1901, a first division club in that country. In 1973 he was transferred to the famous Spanish team Sevilla, a team that has also fielded such famous players like Diego Maradona.
Alhajie Biri Njie was recently honoured by his team Sevilla as one of the greatest players in the world and on that occasion Diego Maradona himself took the privilege to have his picture taken with the greatest player that has ever played for Sevilla.
After a five-year stint with the two-time UEFA cup champions (Sevilla), Biri went to Belgium to play for Anderlect, a first division team. He returned to Denmark in 1970 to play for Herfolge.
In 1981 he returned home to continue his incredibl career with Wallidan before calling time on his glittering career marked by some spectacular highs in 1987.
Biri, a one-time manager of the Gambia senior ntional team (Scorpions), also had a successful spell with the Scorpions as a player from 1963 to 1987, a record appearance in the history of soccer in this country.
Biri Biri is absolutely an inspirational figure to all Gmbians and to the young generation of rising stars in particular.
Hardly anyone will ever forget him for his success and heroic display at both the domestic and international stages where he made the biggest impact.
Read Other Articles In Article (Archive)