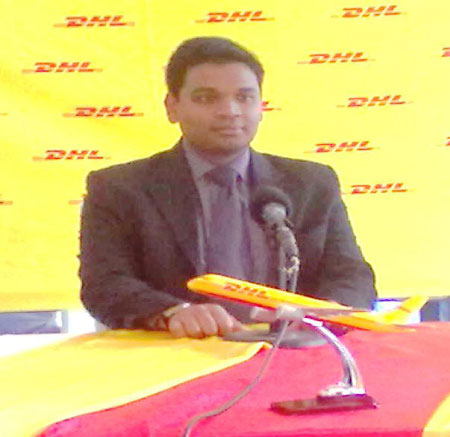 Head of marketing at DHL Express Sub-Saharan, who is based in South Africa, is on a two-day working visit to The Gambia.
Sumesh Rahvendra is responsible for branding, advertising and sponsorships, business development among others in over 51 countries in Sub-Saharan Africa.
Rahvendra is in The Gambia to tour the various facilities and meet with local government officials, customers and DHL employees, to discuss trade and development in the country.
Speaking at a press conference held at the Coco Ocean, Rahvendra said the tour was part of the usual management visit.
He said what they try to do is to cover many markets, to rebuild the business, to talk to staff, government, customers and the media to ensure that business is growing very well.
"DHL is a logistics company that is present in 51 markets in sub-Saharan Africa and not many of the companies in the world can make such presence," he said.  
The DHL head of marketing said that over all they have marketing infrastructure and a physical presence in all 51 markets with dedicated aircraft, gateways across millions of passengers every year.
"The Gambia is very important for DHL; we have been here for 26 years now,  longer than any other logistic company and we take The Gambia very seriously," Rahavendra said, adding: "We take our role with the community very seriously and days back we were at the health ministry where we donated mosquito nets for the malaria programme."
Business is going very well, he said. However, he also said the market was not fast as it used to be. Like other businesses, DHL goes the extra mile with the hope of seeing positive growth in the near future, he said.
Asked about their challenges, the DHL head of marketing said: "Primarily, the challenges have much to do with marking condition."
The tourist season was not as good as it was expected, and agricultural production did not take its peak, he noted, saying they went to the Ministry of Trade and other institutions.
 He said he was confident that The Gambia would get abroad. He said the biggest challenge they have in Africa is to ensure they are the market leaders, which is also very challenging with lot of new entries. "We are very grateful for the support we get from the government, customers and the media," he indicated.
"In 2010, DHL played an active role in the floods. DHL take its commitment to The Gambia very seriously. We thank The Gambia market for being so nice to DHL and we hope to grow along with that," said Ravendra said.
For his part, Desire Zakpa, DHL director for Region One, emphasised that DHL is doing very well in The Gambia and that it was their pleasure to be in the country.
He said their intent is to stay longer in The Gambia save for other commitments.
Read Other Articles In Article (Archive)