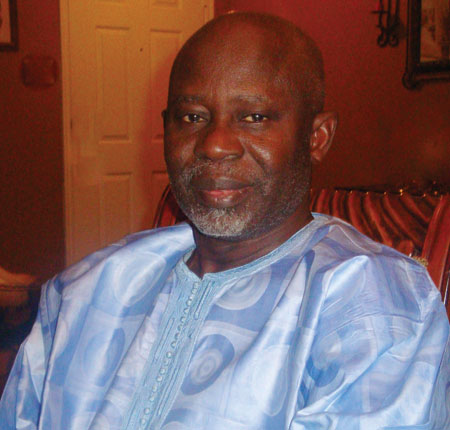 Founder and party leader of the opposition United Democratic Party (UDP), Lawyer Ousainou Darboe, turns 64 today Wednesday 8th August 2012 and, by this time next year, he will not be eligible to seek the presidency, according to the Constitution of the Republic.
As dictated by the 1997 Constitution of the Republic of The Gambia, Darboe who contested and lost to incumbent President Yahya Jammeh on four occasions since 1996, will no longer be eligible to stand as a presidential candidate as long as the provisions of the Constitution remain the same.
According to Section 62 subsection 1(b) of the 1997 Constitution of the Republic of The Gambia, a person shall be qualified for election as President if he or she has attained the minimum age of thirty years but not more than sixty-five years.
A strong critic of the APRC administration, Darboe joined politics in 1996, the year in which he first ran for presidential election, and obtained 141,387 votes or 35.84% of all ballots cast. In 2001 Darboe got 149,448 votes or 32.67%.
In the third election held under the Second Republic in 2006, Darboe, who joined forces with Hamat Bah's NRP party, polled 104, 808 or 26.69% of the total votes cast.
In the last presidential election held on 24th November 2011, Darboe again lost to President Jammeh, polling a total vote of 114, 177 votes or 17%.
Born 8th August 1948, the veteran politician believes that what the future holds for him is what Gambians should now ask and not what it holds for the UDP party because, as he put it, the UDP is larger than Darboe and it is UDP that has made Darboe what he is politically.
In his own words, the issue of UDP candidature after his non-qualification should not be tied to Darboe, but the party.
Ahead of his 64th birthday, Darboe spoke exclusively with The Point, touching on a wide range of issues ranging from his career, future, successor, the Gambian economy, to the Judiciary.
Below we reproduce in full our interview with Ousainou Darboe:
Can you tell us a bit about yourself?
Put in a nutshell, I am a lawyer and a politician. In a nutshell, that is what I am.
For how long have you been practicing as a lawyer, and what are some of your experiences?
I started legal practice in June 1973, and I did so after passing my Bar exams in May of 1973. But then I was not called to the Bar, because of some legal technicalities, that is, that I had studied in Nigeria, and the state of the law then did not permit people who studied law outside Great Britain, Northern Ireland and Wales to be called to the Gambian Bar.
There have to be some amendments to the laws to allow me to be enrolled at the Gambian Bar, and because of that, in June, I was serving as a prosecutor. I was appointed in the civil service, and I was a public prosecutor.
I have since then been advocating the cause of The Gambia until now, which is 39 years. It was really very interesting and challenging because, while I was in the civil service, there weren't many challenging cases then, though I had the displeasure of prosecuting two classmates one of whom hailed from Bansang and the other also from the Central River Region. But then I just saw it as doing a job.
I served in the registry, business registration, company registration, registrar of deeds, marriages and so on. I also did some drafting of legislation until when I left and went into private practice, where I really found the profession interesting.
There, I met very eminent practitioners in the persons of ASB Saho, very erudite, had a complete command of the English language, which in his advocacy, he would really here interject with some Latin or French phrases. He was a real advocator and it was a pleasure listening to him. You also have very industrious people like Alhagie Drammeh, and these were people that we learnt from.
You also had Mr Solomon Jagne, Joseph Njie, who were our guides then and we did a lot of interesting cases. Virtually, every aspect of the criminal law, I defended people in, from petty offences like conduct likely to cause breach of the peace to treason. So I have seen a great deal of the criminal side of the practice, as well as the civil side, and really it was very challenging, very rewarding and I'm still enjoying it.
When did you join politics, and what was the reason behind?
I joined politics in 1996, and the motivation was really to liberate Gambia from people who have absolutely no regard for the rule of law and democracy. I saw it as a call to national duty, and I got into it and have not regretted it, because I have played my role, and hope that I will continue to play my role, in the political arena as long as my health permits me. Thank God, I have no health complaints; I regularly visit my physicians and they are very happy with my state of health.
You started politics 16 years ago, as you said, to liberate the Gambian people. Have you seen any difference since then to date, with regards to the political situation in the country?
The issue of torture which was very prevalent in 1996 up to 2006 is now reducing. The current regime has adopted a misuse of the criminal justice system instead of getting people arrested and subjecting them to torture, although there are still arrests and complaints of torture. The scale has reduced, and the attitude towards the opposition has been one of misuse of the law instead of physical torture to try to stifle the opposition in the country.
You will be 64 by Wednesday (today) 8th August and, according to the Gambian Constitution, you would not be eligible to seek the presidency again having contested and lost three elections to President Yahya Jammeh? What are your thoughts on this?
This is Saturday 4th August we are holding this interview, and I thank God for letting me see another 4th August and I hope and pray to God that I will see the 8th August when I will turn 64.
I am very thankful to my creator for giving me that lease of life and the good health, both physically and mentally, all throughout these years. It is not anything special that I have done for my God that allows me to enjoy such good health and such life.
In fact, for every Muslim who has attained 63, the rest is a bonus because the Prophet of Islam died at the age of 63; so any Muslim who attains the age of 63 and beyond should be thankful to God for that, and I am very thankful to him, and hope that he gives me more bonuses until I can see my grand children through their adulthood.
The issue of not being qualified for the presidential elections shows one of the incongruent features of the Constitution. In a true democracy, there should be no age barriers in contesting elections.
After all, we have seen across the border the former President of Senegal, Abdoulaye Wade, who was elected president in his 70s. We have also seen in Guinea Conakry, where President Alpha Conde is in his 70s. Why do you have to have an upper age limit? In fact, the older a person gets the wiser and the more matured he is. So, as I said, all this goes to show how incongruent our talk about democracy is, with some of the rules that are in place for the operation of these democratic ideas; but that is beside the point because whether age or no age limit, it is the role that one plays that is of significance.
I will continue to be active in the political arena until we see that true democracy returns to this country.
I'm not necessarily saying that until the Jammeh administration is voted out of office, because it is not the positions that we are concerned about, but the environment which should not be a hostile one.
It should be free from intimidation; people should not be committing crimes against people; there should be no impunity.
The executive must be accountable to the legislature and the legislature should also play its oversight role. The judiciary must be independent, not only from external pressures, but also independent even from its own peers, because you have to be independent of your peers; that you are not influenced by the dictates of your peers.
These are what we want in this country and, obviously, if we have the National Assembly really doing its oversight function, holding government to account and not trying to defend the indefensible on the floor of the National Assembly, and the Executive really performs in accordance with expectations of the people. If all other democratic institutions like the Ombudsman, the Independent Electoral Commission and the Fourth Estate, the Press, are left to be free to do their work properly without any hindrance, what will be the complaint?
We are not saying that we must have a 100% perfect government; a government that does everything 100% perfect. No! We are not saying that, because that is impossible to attain; but then, government must be doing things that fall within the expectations of the ordinary people.
Why would we lose a €22 million EU grant for not observing human rights? Why should that happen? These are the things that have forced us and are still keeping us in politics, and we will continue as long as these conditions exist.
Many would ask what's next for the UDP, after your non-eligibility to seek the presidency under the present Constitution?
I don't think it is really proper for well-thinking Gambians and people who think properly to pose such a question.
After all, UDP is not Darboe and Darboe is not UDP; UDP is larger than Darboe, it is UDP that has made Darboe what he is politically. So the issue of a UDP candidature should not be tied to Darboe, but the party.
Obviously, you have competent people within the party; you have competent women; competent gentlemen, both within and outside The Gambia, who are qualified and probably even better qualified than Darboe, as a presidential candidate.
I think people should not disturb their minds that with Darboe at 64, what is the future of UDP? No; I think what they should be asking is, now that Darboe is not going to contest, what is his future, and not the future of the UDP.
Can you share with us your impressions about the current state of the Gambian economy?
The Gambian economy is currently in a terrible state. There is absolutely no doubt about that, because considering the purchasing power of the ordinary Gambian has declined drastically, economic activities are virtually at a standstill. It is sad, because my office is located in the centre of Banjul.
By 11am on a Wednesday, when I see the streets empty, I get really frightened. In a place where economic activities are bustling, you don't see the streets empty.
Tourism in which we have laid some of our hopes is not faring well. The agricultural sector is also not doing well; granted that there are natural causes such as shortage of rain and so on, but then this was just last year. In the previous year, why was production low? Look at our national debts, and we are not developing our productive sectors; it is just having lip-service.
All the talk about the Programme for Accelerated Growth and Empowerment (PAGE), very good idea; on paper they are really good, but what is being done to implement them?
One sector that should be properly harnessed and exploited for the benefit of the Gambian people is our water resources; but what is being done about it? You just have lip-service, and we really need serious thinking people to look into these things and address them properly. You cannot just go on the television and come out with grandiose statements that really are meaningless.
Many Gambians see you as one of the senior lawyers in this country at the moment, what is your impression about the Gambian Judiciary?
I have said that anytime I found the Judiciary wanting in anything, I will say it publicly. So far, I do not find the judiciary wanting. There is one thing for a judge to misapply the law and another thing to do things under dictates of a person. That is why you have the appeals procedure.
There are judgments that I do not agree with, because I feel that the law was not properly applied, but it is not because I feel that they have been issued by anybody. There have been cases in which government have absolutely no interest between two private individuals, and yet decisions are made, some of which I do not agree with. So you have to use the mechanism provided by the appeals procedure to rectify the errors, but it does not necessarily mean that the judiciary is under the dictates of the government.
I also will say that I disagree with the custodial sentence of the late Uche because sedition really for the first time, even if some type of punishment has to be imposed on him, it does not mean that the punishment was imposed on him because that is what government wants. An appeal could have probably rectified that sentence imposed on him.
Would you like to add any other thing?
My final words are that Gambians should really be self searching, and put the Gambia first and self last. We should stop pretending that everything is good, when things are bad. A lot of people who go on national television and radio, and talk a lot about Gambia, are themselves convinced that things are bad, but they are pretending. May be they do so because they want to maintain their positions.
We see in this country; even if someone is making a statement and mentions the name of the President Sheikh Professor Alhagie Dr Yahya AJJ Jammeh, everybody starts clapping, especially the women groups, when just the mention of the name is not a statement made to score a point. When people make a valid point that should be the time when people will clap. All these are not real, so let us be real!
Certainly when His Excellency Sheikh Professor Alhagie Dr Yahya AJJ Jammeh does something that deserves clapping, people by all means should clap, and by all means give him the respect as head of state, because it is the office that one would be respecting.
Gambians should really stop pretending, and be ourselves!
Read Other Articles In Article (Archive)