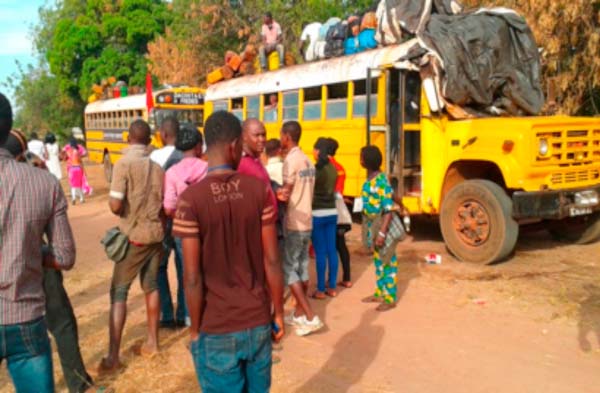 Tears ran down the cheeks of some delegates when some Boke (Guinea Conakry) delegates began to get their vehicles set, packed their luggage and assembled to depart from The Gambia.
The difficult feeling of parting was punctuated with sobbing and embracing in a fraternal fashion.
Delegates from the six participating countries talked to this reporter, sharing their impressions and giving their opinion on the just-concluded weeklong meeting of friendship and fraternity, held in Basse.
Alseny Conte, member of Guinea Conakry ensemble and a radio journalist in Boke, expressed his satisfaction with the way the SAFRA events went, calling for the participation of more countries in the biennial event.
As a media practitioner, he suggested the formation of a network of SAFRA journalists as a means of sharing and disseminating in information.
Mariama Cire Sylla, also of the Boke delegation from Guinea Conakry, said she never attended the SAFRA event before, but found this edition "very interesting and educative" because she interacted with many people, and praised the organisers for their foresight.
Hamidou Doucoure, a young Senegalese delegate, described the 2015 SAFRA in Basse as a family meeting of people separated by borders and colonial legacies, with different national flags, anthems, and official languages brought by the colonialists.
He said unfortunate incidents like fights during sporting activities are a result of misunderstanding of the true meaning of the friendship and fraternity that SAFRA came to concretise.
Philomenda N. Jatta, a young Gambian participant, said this year's event was superb even though it was her first time to participate in it.
She proposed that the next edition of SAFRA should create more time for more people with different interests to be able to showcase their talents.
A Bissau Guinean representing Gabu, Alieu Balde, who is a teacher by profession, was eager to know the venue and time for the next edition of the event.
He said Basse hosted SAFRA well and has made him to reach the conclusion that the event is not just a meeting place or forum, but a journey to self-realisation.
Yero Cande, also of Gabu, said the timeframe for the sporting activities should be extended so the interaction through sports could be enhanced.
Fourseyni Traore of Kaye, Mali, said the event would ever remain in his memory, because he had received more knowledge in different ways from it, especially the cultural dance and the musical jamboree that ignited his African spirit as a Pan-Africanist.
He expressed hope that the next SAFRA would be as interesting and interactive as the one in Basse.
Selibaby-Mauritania's Ibrahim Traore said the biennial event is worthy of emulation by other African nations, so that all hands can be on deck to realistically examine the fundamental problems of the continent and come up with lasting solutions to the problems.
Read Other Articles In Article (Archive)