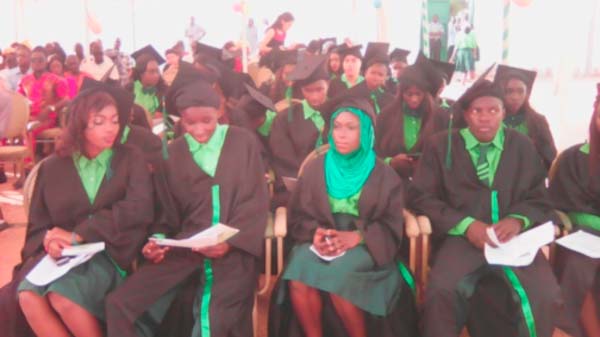 Apple Tree International School at the weekend held its 8th graduation ceremony at the school grounds in Kololi.
The programme brought together students, former students, teachers from other schools and representatives from the Ministry of Education and the local communities among others, who were happy to see their loved ones in black gowns after successfully completing their courses at the school.
Speaking earlier, Mr Wasiu Adebayo, the guest speaker of the occasion, described the graduation ceremony as a major step in the journey and lives of the graduands, as it is a significant occasion to be recognised and celebrated.
He said graduating from high school is not an end goal in itself; instead "it is part of the larger journey of life for all accomplishments you achieve during its course and should be taken as starting points for further achievements".
"Therefore your graduation should serve as such a launching point, projecting you to wherever your future is meant to take you, whether you teach yourselves a career, take up a trade or continue your education at the university or vocational or technical school," he said.
He added: "As you embark on this journey of life, you must develop the ability to dream and dream big, because there is nothing wrong in dreaming dream."
He quoted Muhammed Ali the greatest heavyweight boxer, saying "champions aren't made in the gyms; champions are made from something they have deep inside them - desire, dream and vision."
"As you pursue your dreams, however, it is very important to be prepared for the road ahead and the road that lies ahead won't be easy, there will be obstacles and miss exits, potholes and roadblocks," he added.
He said as the students and graduates continue on the journey of life, they must take each new problem on with confidence, knowing that they have achieved great heights and are equipped with the necessary tools to tackle their future. 
Moses Ugberaise, headmaster of the high school, stated that Apple Tree has grown over the years, providing learning facilities to meeting the dynamic needs of a modern academic institution.
According to him, in 2012 the school started a dual programme that has created flexibility and marketability of graduates by providing opportunities for students to either do the international curriculum or national curriculum.
He said their past graduates have gained admissions into colleges and universities in The Gambia, the UK, Asia and USA.
"You proved to us that we can rely on you at all times as some of you still kept a credit balance of 50 point which has seen your name printed on the Gold Conduct Certificate for outstanding behaviour in the school for the past 5 years," said Mr Ugberaise.
One of the graduates Ms Lisa Sawaneh, in her remarks, said: "Our five years at Apple Tree School were all not rosy or perfect but we learnt to note the noise of other opinions bring us down."
"All these years we were being chased to follow success in order to actualize our dreams and aspirations and we had the tendency to stray from the right path, but just few sincere words from a wise man put us back on track."
She also said: "It is your attitude, not your aptitude that determines your altitude."
In his vote of thanks, the outgoing head boy of the school, Amadou Trawally, called on his fellow graduands to be careful of the steps they take, as they have entered a complex world and are obliged to face some forms of new challenges hence must be prepared to meet these challenges head on, on daily basis.
He thanked parents, teachers and all those who have contributed in one way or the other to making their dreams come true.
The ceremony ended with presentation of certificates and prizes to winning graduates and students.
Mr Kehinde Omotowa, director of studies at West African Insurance Institute, gave out three awards to the best behaved students with a cash prize of D1,000 for each.
Read Other Articles In Article (Archive)