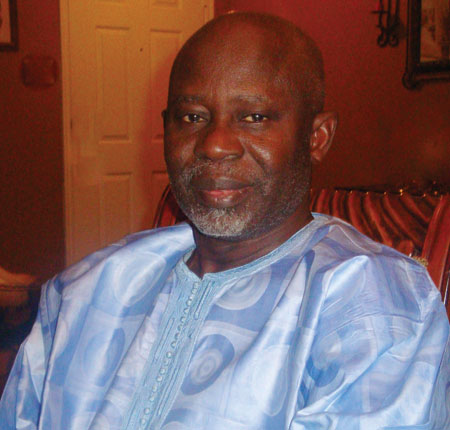 Ousainou Darboe, the secretary general and leader of the United Democratic Party (UDP) has spoken on the Supreme Court's decision in which the Commission of Inquiry fined him (Darboe), liable for tax avoidance.

The UDP leader dismissed suggestion from the public that he only paid tax during election. "It's something that is not true. Yes Ousainou Darboe does have arrears but it's not about only election that I do pay tax. Apparently, some people on social media are suggesting that I was nabbed on tax evasion that's not true," he said yesterday during an interview on SENN FM.
The Supreme Court last month upheld the decisions of the Commission of Inquiry that Lawyer Darboe was paying his tax as arrears for the purpose of nomination in elections. The court held that payments of the taxes were only made during election periods, adding that Darboe was not compliant with the tax laws. The court found that Darboe has tax arrears that he failed to pay.
Darboe was challenging the findings of the Commission of Inquiry into tax evasion. The Commission found him liable of about 2 million dalasis on tax evasion. The adverse finding was dated 6th June 2012 wherein Darboe was found liable of tax evasion to the tune of D1,981,296.52 (one million nine hundred and eighty-one thousand two hundred and ninety-six dalasis and fifty-two bututs).
He added: "I want people especially those in the media to be careful about such. It is arrears and that arrears are something that one pays and that it's going to be paid. They said I was not paying tax, but if you don't pay tax that is evasion. Again, there's no one in the country that is working and doesn't have arrears on tax," he claimed.
"The point is, I'm a politician and that's why my case was brought up. But there're up to seven lawyers in the country that have issue on tax which are up to millions, but their issues are not being talked about. They can talk about my case because the people that I'm dealing with want to make the issue worse so that people will say I did tax evasion while it's just arrears."
On Ya Kumba Jaiteh case, Darboe said, the Supreme Court has made a decision and that the president has no power to remove her because the law doesn't give him that power to do so. In fact, in the face of the law if you did anything that you supposed not to do it's a taboo."
"In my opinion, if the government is doing anything they should consult people who know something about it but not people that don't even know their left and right."
Darboe claimed that the Justice minister was not consulted about Barrow's decision to remove Ya Kumba Jaiteh, saying: "I believe if he (Tambadou) was consulted it would have not happened. I know how he understands the law and how he respects the law. If he was consulted this kind of thing would have not happened."
Ya Kumba's victory, he added, shows that our judges will not listen to anybody. Again, this shows that any Gambian can go to court with the government. "This is a good sign for the country," he stated.
Read Other Articles In Article (Archive)