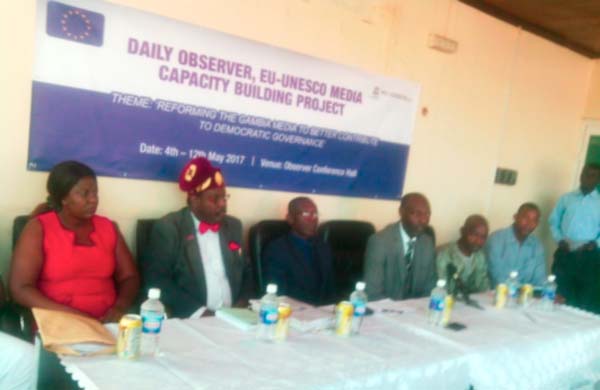 Daily Observer Newspaper Thursday commenced a weeklong EU-UNESCO funded media training project.

The training, funded by EU-UNESCO, was part of upgrading the capacity of journalists in the country.
In his opening remarks, Malick Jones, deputy permanent secretary at the Ministry of Information, Communication and Infrastructure, thanked the management and staff of the Daily Observer for commencing the training which aims to build the capacity of journalists in the country in doing their work perfectly.
He said the weeklong training is based on the theme: "Reforming The Gambia media to better contribute to democratic governance" and was designed for reporters, editors and layout editors.
"The training is part of the EU-UNESCO project to reform The Gambia's private media to better contribute to democratic governance by improving the press and the quality of information available to the public," he said.
DPS Jones said the Ministry of Information, Communication and Infrastructure would give its full support to the journalists and media components implemented by UNESCO under a project management unit in the country.
Mr Jones said the training exercise would build the capacity of media professionals who would use their expertise and professionalism to work hand in hand with government to build The Gambia based on accountability and responsibility to the Gambian people.
He urged the management of the Daily Observer to include IT training for its staff while calling on journalists to specialise in their areas of reporting.
The managing director of Daily Observer, Pa Modou Mbowe, speaking on the occasion, said the training was key because their editors and layout editors play a key role in print media.
He welcomed the training, saying they would continue to look for more of it in the future.
The Daily observer MD called on his staff to make the best use of the training because it is a lifeline and, more importantly, they are looking for more collaboration with EU-UNESCO in other areas in terms of capacity building to enhance their participation in democratic governance.
Also speaking, Momodou Saidy said the project that started in 2013, aimed at upgrading and strengthening the capacity of the private media in The Gambia.
In October 2013, an editors' forum was convened by the EU office where media houses were asked to outline their specific areas of need that would help news production.
The objective was to assist the newspaper industry in the country to adhere to modern standards of journalism and adopt the cutting edge technologies required for the practice of journalism in the current era.
Read Other Articles In Article (Archive)