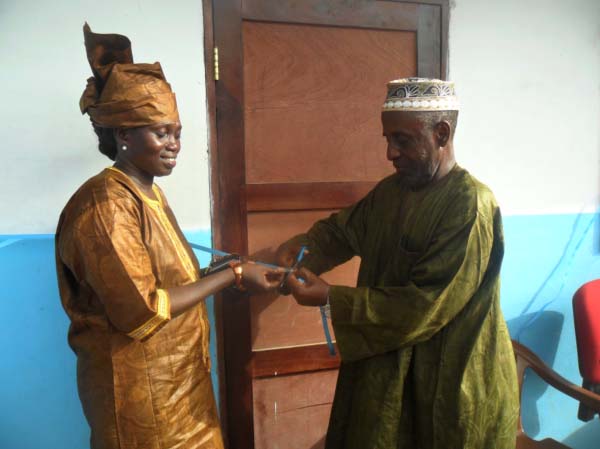 A four classroom-block constructed to the tune of D800,000 at Adams Kids Nursery School in Latrikunda German by Jarmilla Kids Foundation, The Gambia, was recently inaugurated.
The new edifice was inaugurated by the Alkalo of Latrikunda German, Alhaji Amadou Faal. 
The event also marked the first graduation ceremony of 12 pupils of the school from Nursery 3 to Grade 1.
In his inaugural statement, Alkalo Faal thanked the management of Adams Kids Nursery School for their steadfastness and commitment to the development of the school.
He sent a "special thanks" to Jarmilla Kids Foundation for their foresight to help the future leaders of the country by helping to provide an environment conducive for learning at the school for the benefit of the children.
Mr Faal urged parents to send their children to school – whether conventional or non-conventional schools – to acquire knowledge.
The founder of Jarmilla Kids Foundation, Madam Jarmilla Cole-Hofman, a Dutch, said the foundation is a registered charitable organisation in The Gambia; it originated from the Netherlands Stitching Gambia-Kids.
She said the foundation was formed to help Gambian children to have better future through education.
The foundation does a lot of things like sponsoring school children with books, teaching and writing materials and toys.  It also helps schools with feeding programmes as well as sponsor children of less privileged parents.
In 2015, the foundation built two schools: one in Erinjang, Manjai Kunda and another in Mamuda village, Kombo South District. 
The founder said they have plans to build a nursery school for GOVI (Gambia Organisation for the Visually Impaired), in October 2015.
The headmistress of Adams Kids Nursery School, Madam Yamoundow Loum-Badjie, commended Jarmilla Kids Foundation "for constructing a magnificent classroom building" in the school.
She also expressed gratitude to the parents for allowing their children to attend her school, saying the school management promised to do all they could to give best education to the children.
As part of the inauguration of the four classroom block, the school also witnessed the first-ever graduation ceremony of 12 pupils graduated from nursery three to grade one.
Read Other Articles In Article (Archive)